St. Brendan's is famed for success on the rugby field.

Whilst the game was well established prior to the sixties, there's arguably two people to truly thank for creating an unprecedented era.

The first was former old boy John Blake. A Bristol RFC player in the late fifties he transferred his skills to the fields of Broomhill Road. He was already making a big name for himself in the world of rugby union and with tremendous good fortune for the school, John accepted the post of history and sports master in 1962.

He wasn't alone in his love of the game. Elwyn Price, the well remembered and much respected sports master had laid a foundation and enthusiastically trained player after player. Elwyn's ability to spot star potential was inspirational. You couldn't help but believe his other teaching subject, 'history' was nothing more than a distraction from his love of sport. Many a pupil can still hear Elwyn bellowing "press, press" with his glorious welsh accent, as he managed to squeeze press-up after press-up from his pupils, on the shiny floor of the school gym.

Add RFC player Peter Colston (another former pupil and then teacher) to the equation and what a trio you had! (Peter went on to become England Rugby Coach after he left the St.Brendan's teaching staff).

John Blake's success on the rugby pitch was known and revered by almost every pupil and arguably this old boy/teacher performing so well at such a high level was nothing short of a dynamic influence. Take a look at the results of the 1st XV between 1961 and 1975 and you will begin to understand just how good the St.Brendan's boys were. It was an era to behold and some of the pupils who rewarded the BPC (Blake, Price & Colston) influence were :-

Peter Binham, Mike Rafter, Peter Ford, David Owen, Mike Healey, Nigel Pomphrey, Mark Regan and Peter Johnson.

Sadly, both Elwyn Price and John Blake have passed away.


Elwyn with 1st XV circa 1970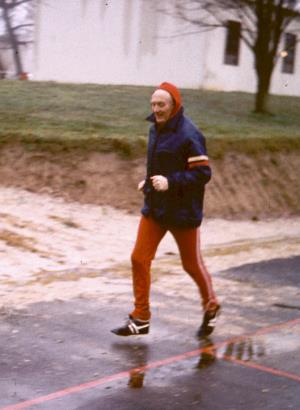 Elwyn Price 1978


The site brings back many memories but I have a copy of the annual magazine 1953/54 which is interesting. It is particularly interesting with a picture of the All Blacks making their customary drop in to see the old school in Berkeley Square when on tour in the UK. I remember seeing the name McCaw in that group having scanned it in a few years ago. I just wondered if he was related to Richie McCaw who in the 2015 World Cup Final. I could not find any reference to a family connection on Wikipedia – may have been a grandfather or great uncle perhaps. There again probably many Scots of that name may have ended up in NZ over the years.

I left SBC in 1953 and moved across Park Row to read chemistry (when Air Squadron activities allowed) then 18 months National Service until defence cutbacks led to redundancy.

Joined British Nylon spinners in '58 and retired in '91 – still living near Abergavenny.

Henry Collins (my best man) in Sydney AU is in the photos as is Phil Lewis who still lives in Bristol and is a Catenian.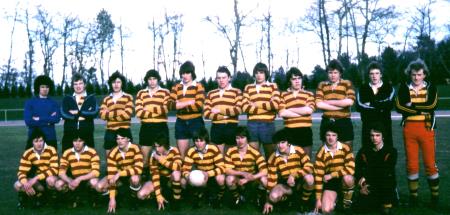 Bordeaux SBC vs LyceeTalence, Bordeaux 1978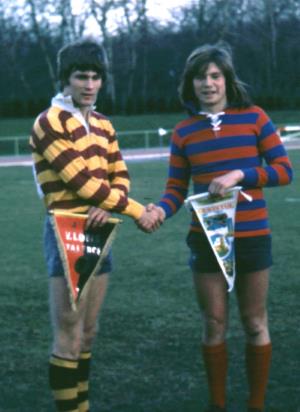 Mark Schieffler Capt. 1978
vs LyceeTalence, Bordeaux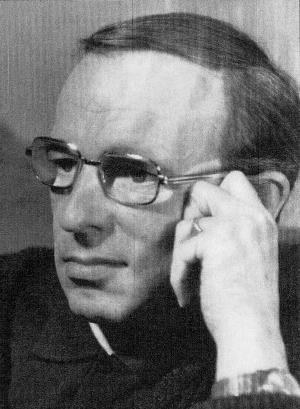 Peter Allen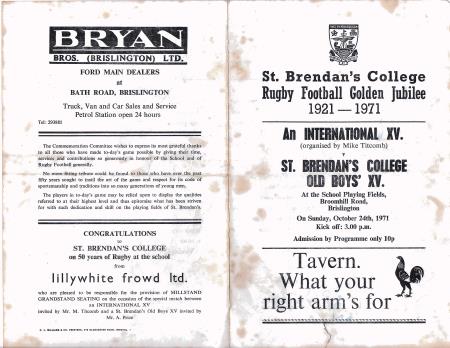 SBC Jubilee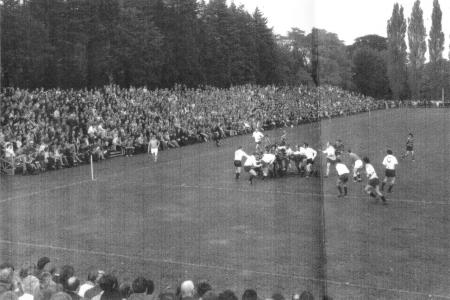 SBC Jubilee 1971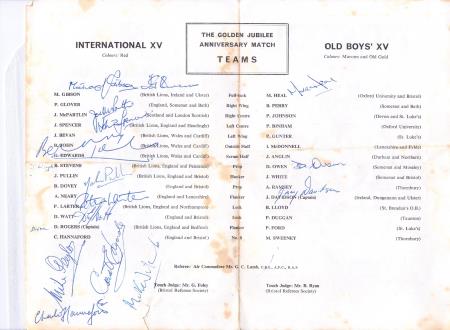 1971 Golden Jubilee of Rugby at St Brendan's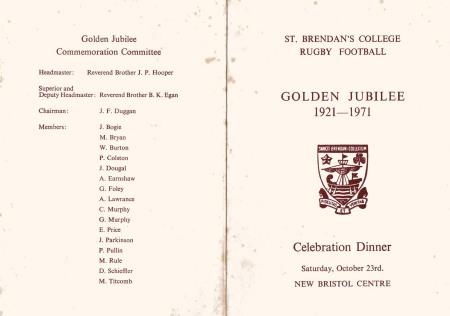 1971 Golden Jubilee of Rugby at St Brendan's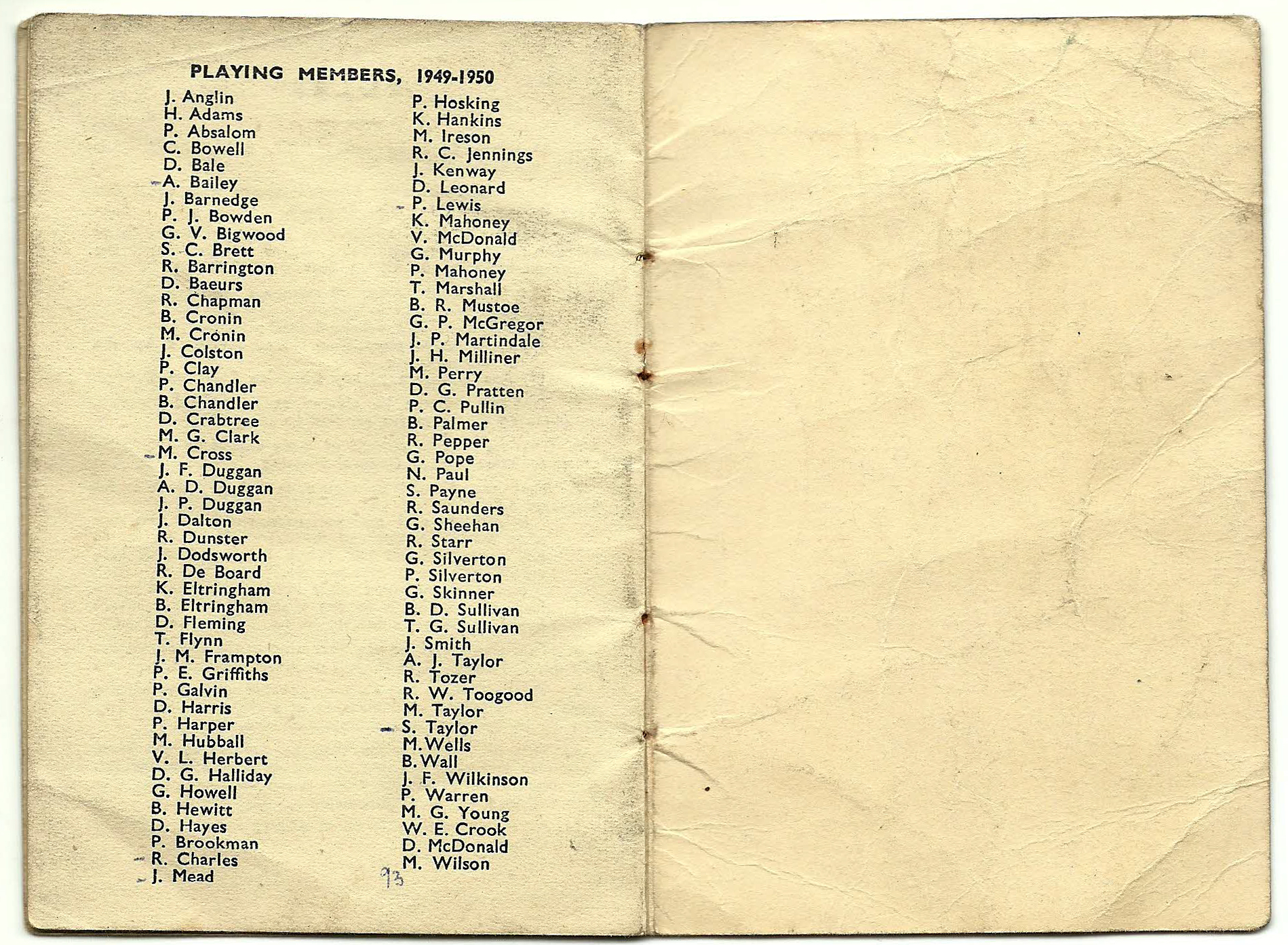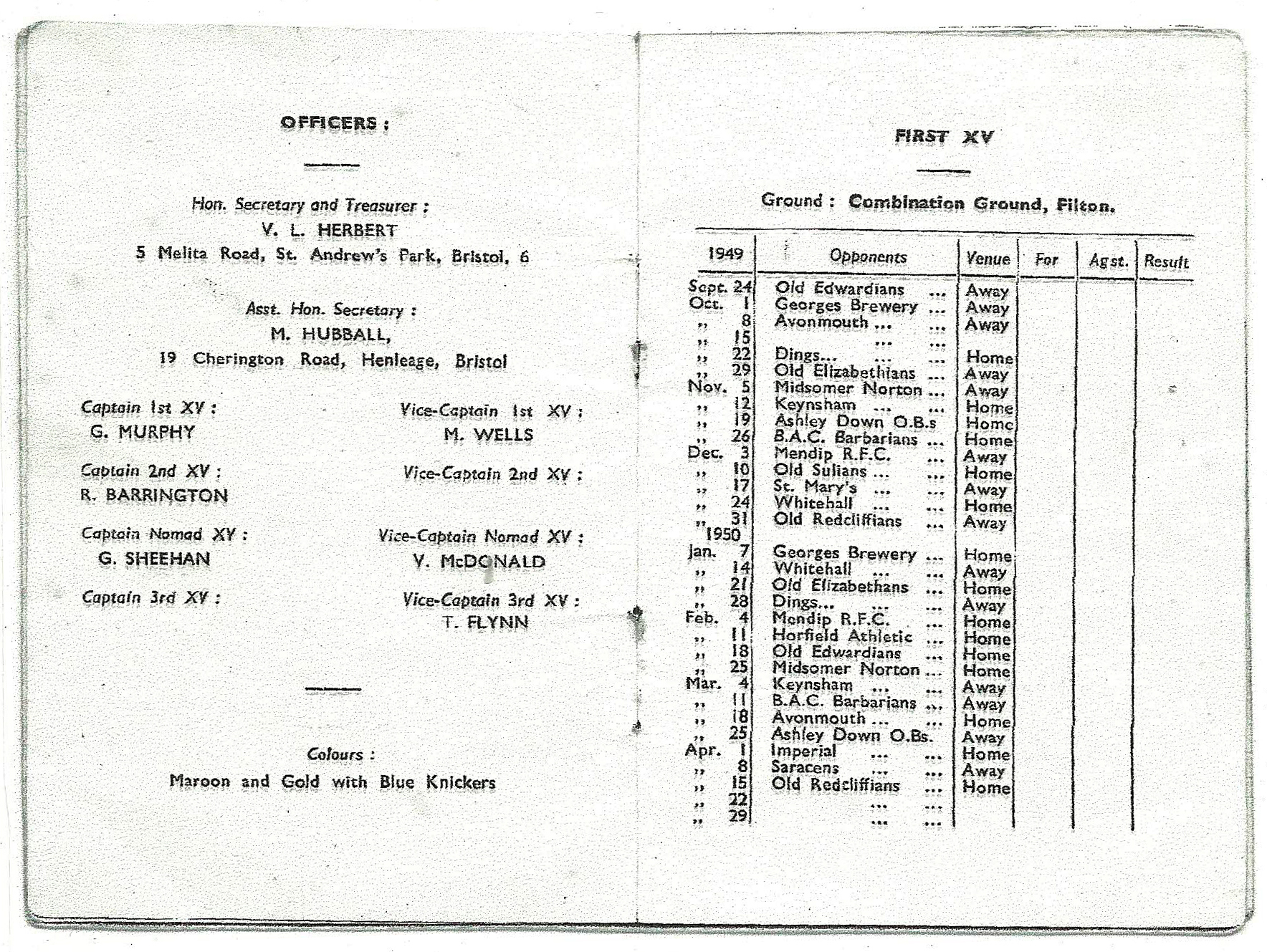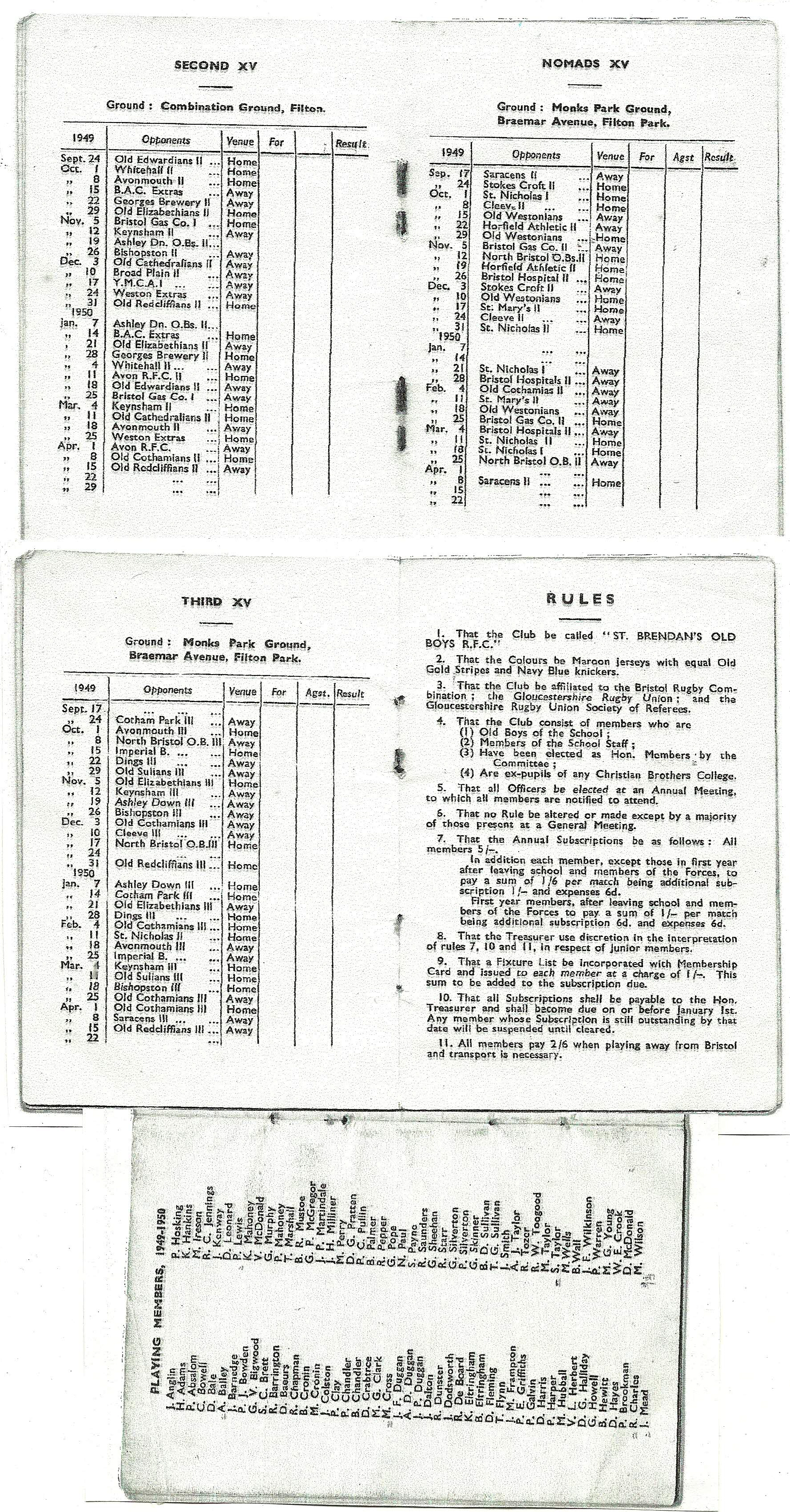 Kindly sent by Mike Trapnell
Rugby in the 1980's
The 1980's saw a huge change in St Brendan's College. The Christian brothers moved on and the school gradually began to morph into its current status as a sixth form college. Although numbers were dwindling in terms of players, it did not stop the school from remaining incredibly successful on the pitch into the middle of the decade. Once the vintage of David Pegler and Paul Jeffrey had moved on to Loughborough University following their England caps at Under 18 level, the torch passed to Bruce Craig (the owner of Bath Rugby) and other characters with first team experience, notably Andy Clilverd, Ian Cox, Paul Farrell and Richard (Frank) Clifford. This was a team that was not supposed to succeed, but enjoyed an unbeaten season in 1980-1981 and taking the notable scalps of Emanuel School London, who we had not beaten for several years, Bassaleg from Newport led by a certain Stuart Barnes, St Edwards Liverpool (away 15-14) and taking Christ College Brecon's unbeaten home record with a 13-12 victory, courtesy of Bruce Craig's dummy switch with Paul Farrell and dive into the corner. He really should have been the England Under 18's scrum half that year but a broken leg a week before the final trial took his chance away. It was England's loss.

The following season saw Ian Cox take over as captain and again the results went from strength to strength. New opponents came on board, like West Monmouth Pontypool, St Peters Bournemouth and Cross Keys College, and old adversaries like Plymouth College, Emanuel School and Bablake from Coventry continued to provide a tough challenge. All opponents were overcome apart from Tiffin School in London, enjoying their best season for years held us to a scintillating 0-0 draw, and Bristol Colts who were good enough to take on most senior clubs first teams, beat us 19-9. (Elwyn Price would have had split loyalties as he coached both sides!) All other games saw St Brendan's emerge victorious, with the highlight that season being the visit of Harvard University in March 1982. A big crowd saw St Brendan's defeat their esteemed visitors 27-16 with tries from Andy Piscina, Ian Cox, Jocky Berry and Mark Beresford. The nurses home next door saw our visitors enjoy some Bristolian hospitality as another highly successful season come to an end.

Throughout this period of success, head coach Mr Price was a constant presence, seeing the development of several talented players. Another person who should not be forgotten is John Dougal who coached the backs, drove the minibus and played good cop to 'Elwyn's' bad cop. It was a winning formula that was to continue into the following season 1982-1983. By this time, St Brendan's was a solely sixth form college, but it did not prevent the rugby teams from being spectacularly successful. Under the captaincy of Mike Lambert (England Schools U.16 and U.18 cap) the school enjoyed one of the most successful seasons ever. The traditional foes, Emanuel, Bassaleg, Plymouth College, St Edwards and St Peters were overcome. There was a half term tour to Holland ( staying in Amsterdam, it was an enlightening tour) victories were achieved over Holland Students and Holland Colts in successive days – it would never happen now. Other schools were well beaten, such as St Peters, Beechen Cliff in Bath and West Monmouth. In the second half of the season, we travelled to play Portsmouth Grammar School who were deemed to be a side who would beat us according to the Daily Telegraph school's rugby correspondent. He could not have been more wrong as the home side, (including future Olympic athlete Roger Black and Harlequins winger and Sky Sports Presenter Mike Wedderburn) were well beaten in their own backyard. The season culminated in our first visit to the Preston Grasshoppers Schools Fifteen a Side Tournament at the end of March. The first group stage was played on a freezing wet Friday. Despite the unpleasant conditions, wins were achieved over Bradford Grammar School, West Park (the holders) and Richard Hale School. Day two saw Edinburgh Academy, Kings Tynemouth and Eltham College defeated, leaving us to play Stoneyhurst College(coached by Richard Greenwood, father of Will) in the semi-final. A close game was won 9-3 before a bruising final against Sale Grammar School was won 6-0. Mike Lambert -non-playing captain as he was in the England U 18 side the following weekend, accepted the trophy and the first team went on to win Rugby World's Team of the month for two months in succession and the School of the Year award. Not bad for a school which was apparently past its best!

Although the following seasons were not quite as successful as previous ones (our unbeaten record was taken by Epsom College in October 1983 19-12) St Brendan's would return to win the Preston Tournament in 1986 under the captaincy of Phil Reynolds, in a team that included future Scotland international Alan Sharp.

The school may have changed over the years, but that didn't stop us from achieving success against the odds! As well as success as a school, several players enjoyed County, Region and national call ups. Following the success of David Peglar and Paul Jeffrey in 1980, Mike Lambert and Chris Mann were U16 caps in 1981, Mike also achieved success in 1983 in the Under 18 England team, and Sean Hodges was capped at 18 group in 1985.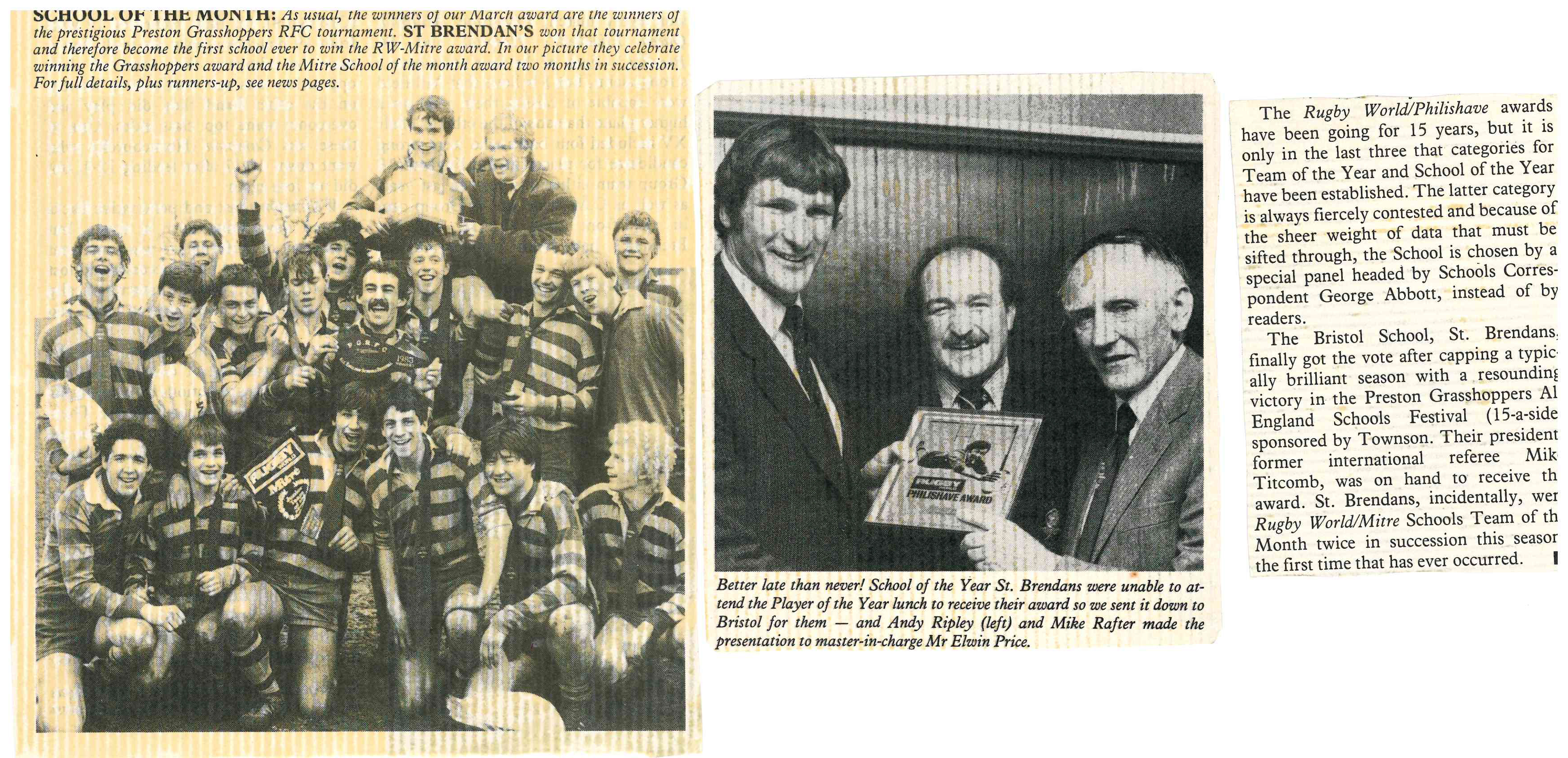 Click to enlarge

From 1983