Please email tony@sanctibrendani.co.uk to put names to faces in the photographs.

Please quote the number specified under the relevant photograph.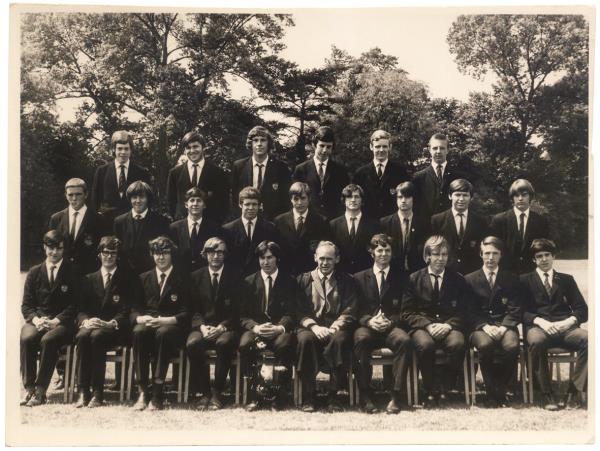 01

Back row: ?, Brookman, Joe Jancar, Andrew Buchannan, ?, Kraftchek
Middle row: Hilary Guckian, Chris Alway, ?, Stanley Szurahijlo, Mike Chandler, Paul Gunning, Paul Manley, Chris Cole, Kembrey
Front row: ?, ?, ?, Jeremy Rolls, Patrick Campbell, Mr. Furlong, Nicholas Leather, Denis Dacey, Francis Picarski, Stephen Browning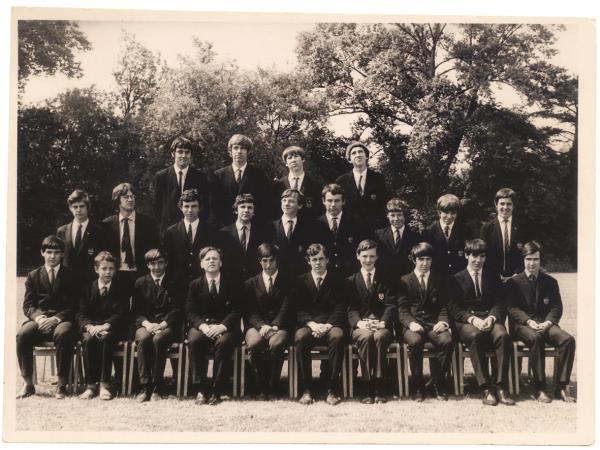 02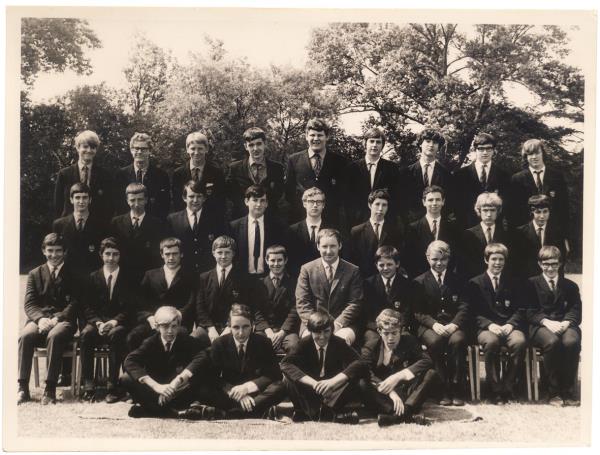 03

Year 2C, academic year 1967-68. Form master Pete Cavanagh

Back row: Mike Slade, Jan Wyglendatz, John Duda, Gordon Glapinski, Tony Emery, Tony Gillingham, Peter Johnson,?, Brendan Redko
2nd last row: Shaun Shallis, John Rouse, Robin Brownsell, Richard Colston, Ed Jones?, John Gallacher, John Campbell, Nicholas Hilbig, Dave Rogers
Seated: Kenneth Kelly, Andrew Billet, Pete Ging, Bernard Kloska, Brendan Hawkins, Pete Cavanagh, Jerzy Wysocki, Tony Nelson, Michael Woodbridge, Tom Roberts
On ground: Stephen Farrow, Philip Proctor, Tony Roche, Graham Moar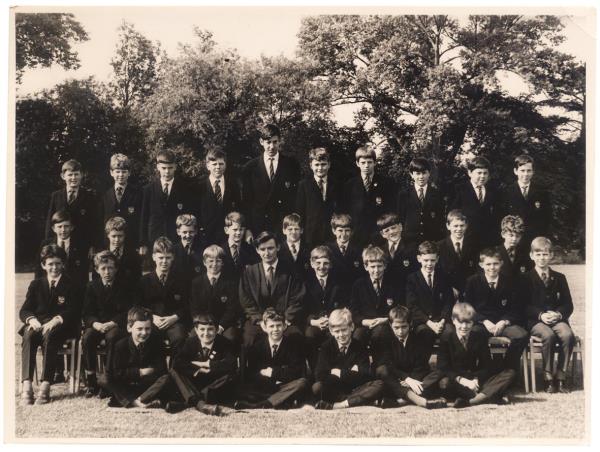 04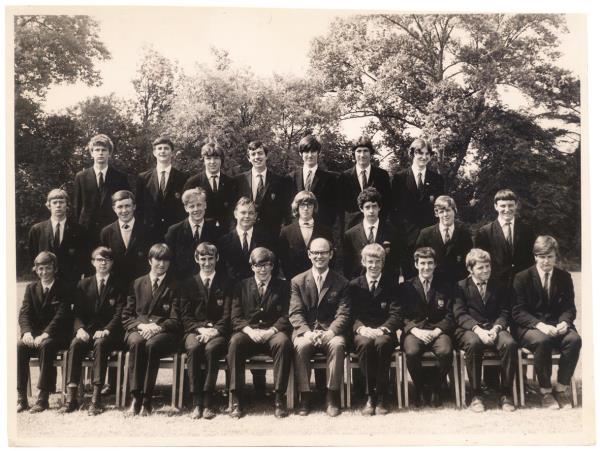 05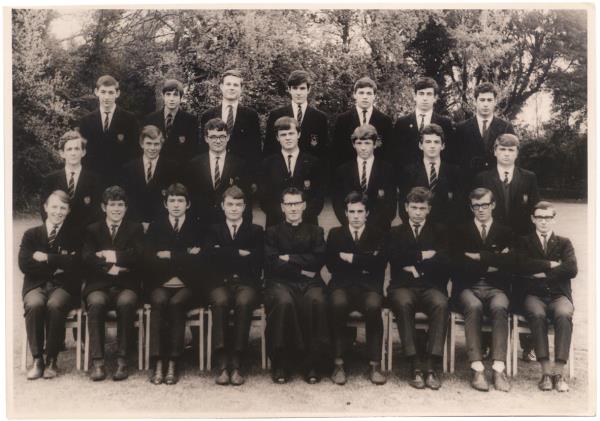 06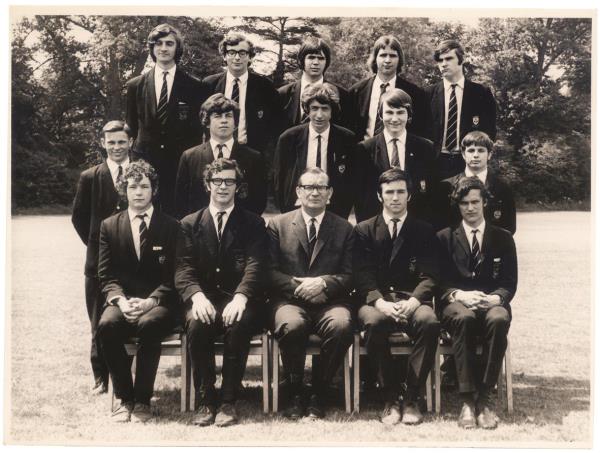 07 (1970)

Back row: John Turner, Paul Norris, Mike Page, Steve Edgell, Simon Gillow
Middle: Paul Nelson, Michael Neil, Nolan, Mike Baugh, ?? Neil, Nick Wallerk Waller
Front: Paul Day, Pete Ford, Frank Duggan, Mac Jeffery, David Dolan.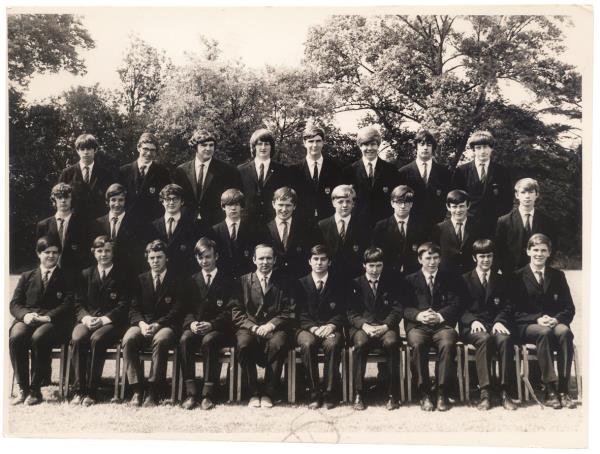 08 (1970)

Class 5A

Back row: Chris Iles, John Massey, Martin Ford, Tim Windows, Pete Legge, Tony Morgan, Lindsay Town, Tony Baugh
Middle: Martin Conway, Steve Cross, Eamonn McGough, John Twomey, Tom Gunning, Dave Fussell, Tim Dowling, Steve Bird, Phil Allen
Front: Bruno Verrecchia, Mike Nelson, Hugh Feeney, Steve Madeleine, Peter (Herc) Allen, Hector Verrecchia, Dave O'Brien, Damien Murphy, Mike Kingston, Chris Woodhouse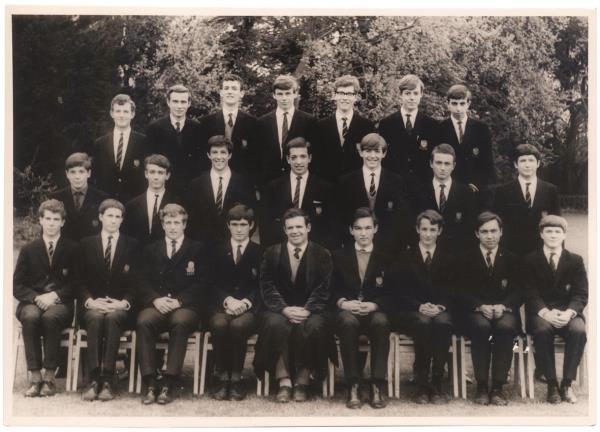 09

(1967)

Back row (left to right): the late Roger Simon Berry QC, Karol Smal, A Kern, A Cunningham, Peter Barnes, M Pardoe, Robert Brain.
Middle row: Paul Brookes, T Walsh, M Ford, Adam Stompolski, M Gregory, M Hynes, Terence Cahill.
Front row: S Blake, John Condon, W Locke, J Cussen, R Parker (form teacher), N Murray, Paul Turner, Anthony Quinn, A Riordan.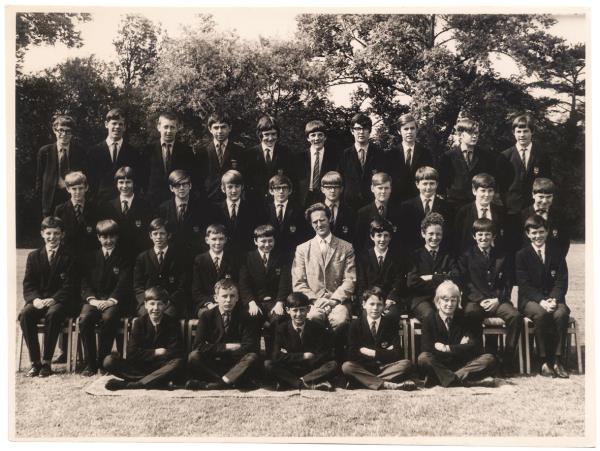 10

Class 3A

Back row: Peter Lush, Bill Coggins, Bob Przytocki, John Krzywkowski, Paul Hajek, Ed Woodhouse, Philip MacDonald, Christopher Napper, Juian McNicholas, Kevin Clark
Middle: John Desmond, Edmund Stanley, Greg Dowling, Peter Verver, Mike Delaney, Paul McKenna, Peter Redman, Anthony Mumford, Andrew Colston, Bernard Doogan
Seated: Alistair Hogg, Martin Smalley, Salvatore Giambrone, Stasiu Golunski, Kevin Davies, Dan Kelly (Form Master), Brian O'Driscoll, John MacAndrew, David Pyles, Simon Button
Front: Chris Lawrence, Shaun Murphy, Alan Barnes, Stephen Richards, Julian Szamruchiewicz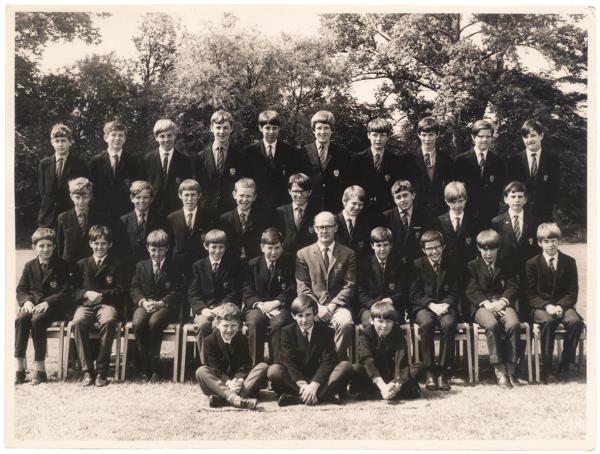 11

Dr. Scheifler's Class 4B or 5B (71/72 or 72/73)

Back row: Bell, Pat Murphy, Peter Dulgeiwcz, Johnathon Hart, Adrian Helmore, (Nick?, Paul?) Callaghan, Pat McGrath, John Langley, Ed/Edmund Macholc
Middle: (Patrick?) Kinsella, John Conway, Ian Wiltshire, (Jon?) Barlow, Mike Young, Dick Taylor, Clifford Van Weilj, (Norman?) Carter
Front: Chris Scanlon, Patrick Dunleavy, (Chris?) Patterson, Bernard Clarke, (? Lovell?), Dr. S, Christopher Doddington III, (Andrew?/Stephen?) Gardner, Andy Prior
Floor: (Paul? Steven?) Gailor, ? Anderson, ? McKenna?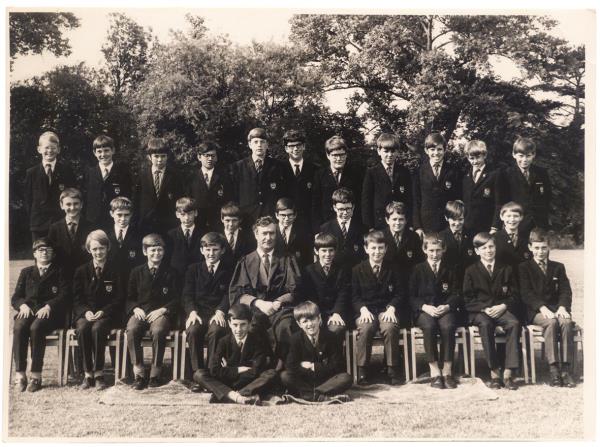 12

Mr Luckman's Class 1B of 1969

Back row: Dave Bond, Dave Hogg, Simon Prior, Richard Wojczak, Gavin James, Antonio Pollastrone, Collingwood?, ?, John Leigh ?, ?, ?

Middle: ?, Timothy Kerley, Martin McGinnis, Guido Szamocki, Jeremy Yarnold, Peter Melling?, ?, ?,Puckett?,

Front: Rod Williamson, Brendan Payne, Martin Kingston, Adrian Lang, Mr. Luckman, Martyn Barrett, Brendan Roper?, ?, Zbjewski?, Julian Chandler, ?,

Ground: Chris o'Sullivan, Michael Cross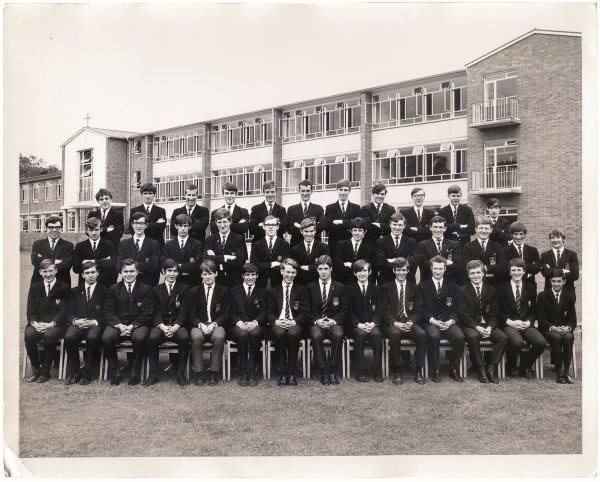 13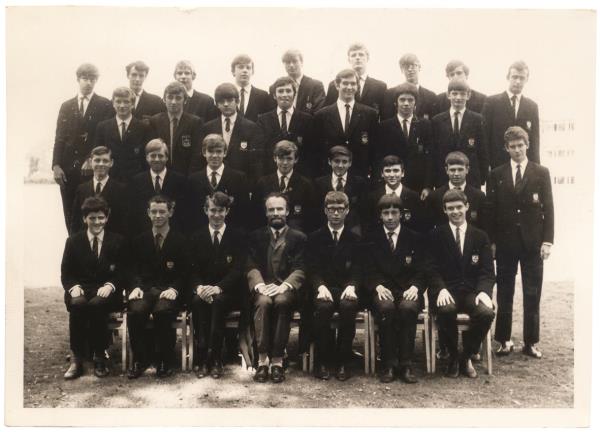 14 (1969)

Back row: Pardoe, Tagney, Booth, Blasczyszyn, Brookes, Whitelaw, Smith, Tony Napper, Drysdale
Row 2: O'Reilly, Manley, ??, Jeffery, Ford, Kirwan, Bentley, ??
Row 3: Rigden, Bence (?), ??, Fazackerly, Sobzak, Borg, Waller, Lander (?)
Front: Dooley, Mahoney, Eason, Pete "Rip" Kirby, Hawkins, Hicks, Ibbotson.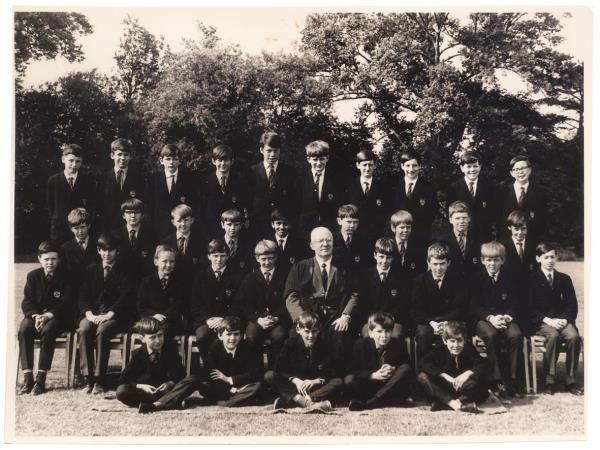 15

Form 1P - Mr Patten's class. 1969.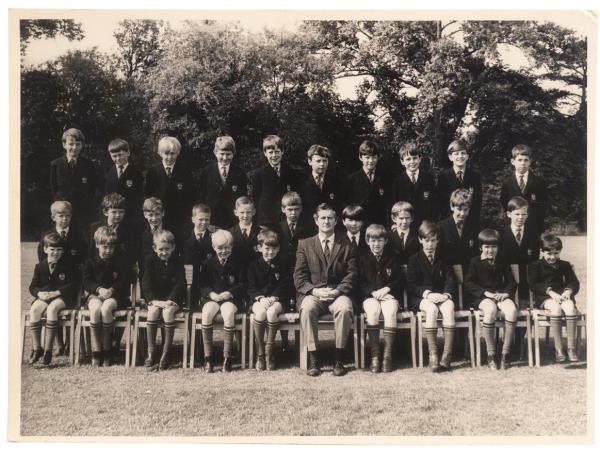 16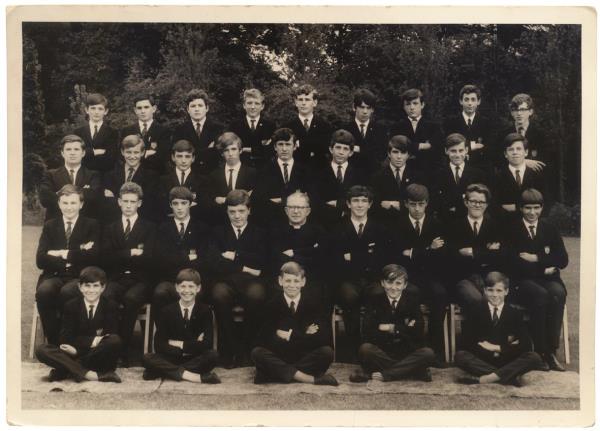 17 (1968)

Back row: Bentley, Gooding, ?? O'Reilly, Roache, Kirwan, Wise, Sharp, ??
Row 2: Minihan, Woodland, ??, ??, Drysdale, Hastings, ??, Maby, Nolan
Row 3: Neil, Lander, Binham, Owen, Bro (Jesus) Grice, Ford, Pardoe, Underwood, Edgell
Floor: ??, Belachinski, Moloney, Sobzak, Scott.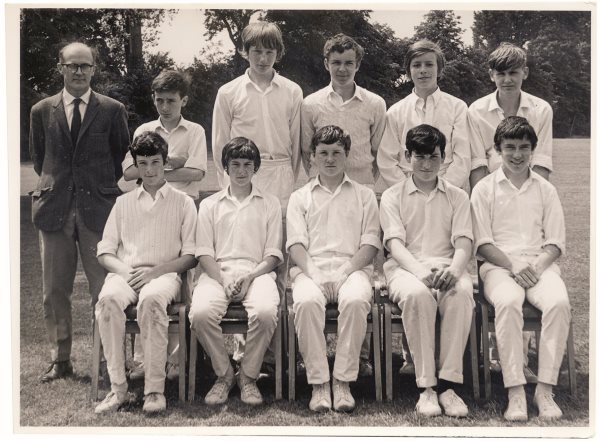 18
U14 Cricket 1969
Teacher: Dr Schiffer
Back row: ?, Jasper Johnson, John Hickey, Dave McNulty, Peter Driscoll
Seated: Simon Chappell, Phil Prior, Bernard Kloska, Richard Colston, Kenneth Kelly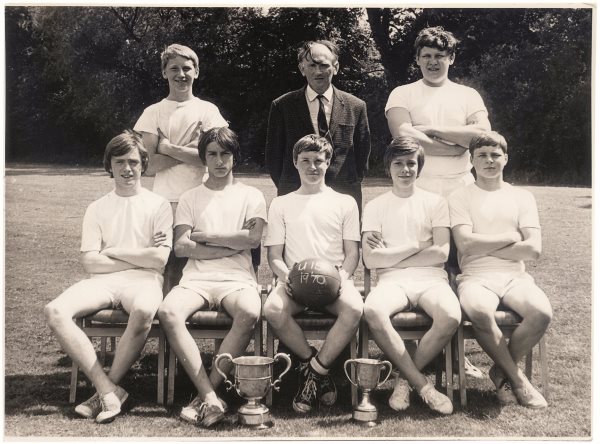 19
Back row: John Duda, Elwyn Price, Toy Emery
Seated: Ray Gunning, Ben Gillow, Bernard Kloska, Dave Mcnulty, Kevin Rafter*

*Younger brother of England rugby Mike Rafter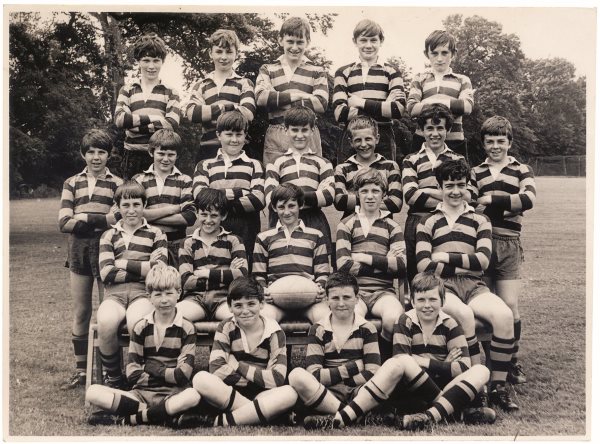 20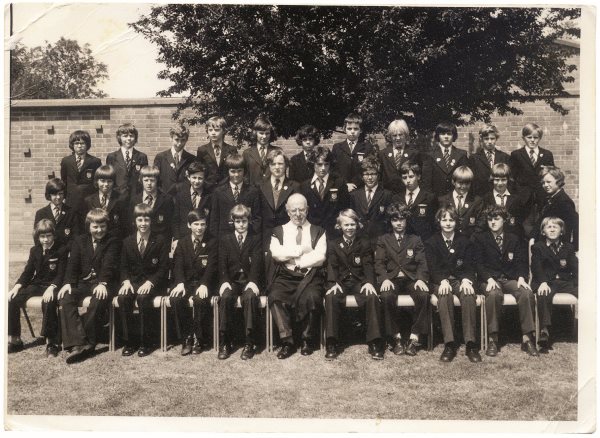 21 - Form 1a, 1975/76

Top Row: David Marsh, Christopher Duffy, Adrian Corp, John Hirst (or Hurst), Kevin Griffin, Wayne Storey, Paul Clancy, Simon Winterson, Patrick Tuohy, Stewart Easton?, Mark (?) Anthony Hannigan

Middle Row: Damien McBride?, Warren Pash, Neil Jeffries, Paul Spear, Simon Whitham, Gregory McGrath (future deputy head boy), Ian Cox (future head boy), Peter Coggins, Derry Begley, Michael Patten, Michael Schaefler, Ian Seggar

Bottom Row: Marek Lewcun, Andrew Giles, Jonathon Farrow, Roberto Howard, Piers Newman, Mr Patten (Porky), Wayne Miles, Mark Beresford, David Rowsell, Brendan Arnold, Mark Allen (son of a deputy headteacher at the time)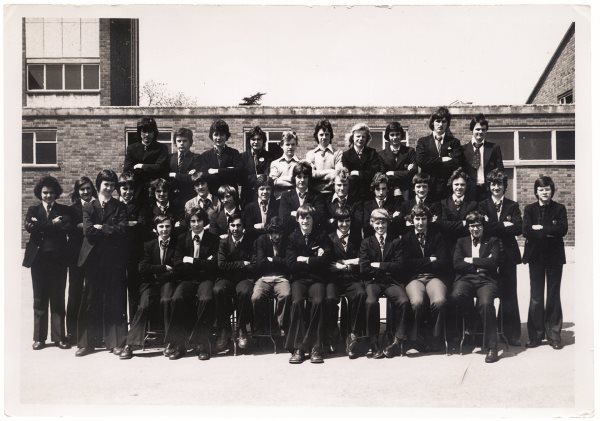 22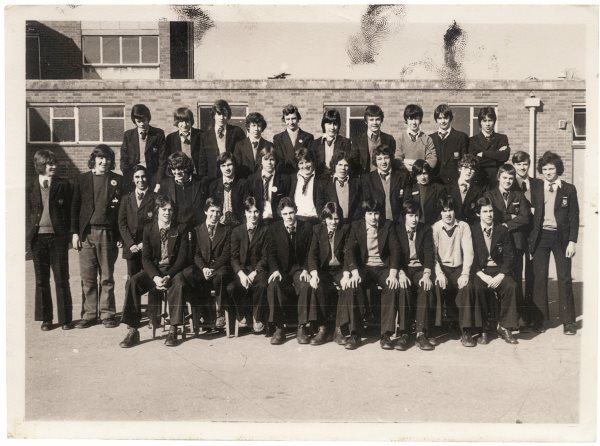 23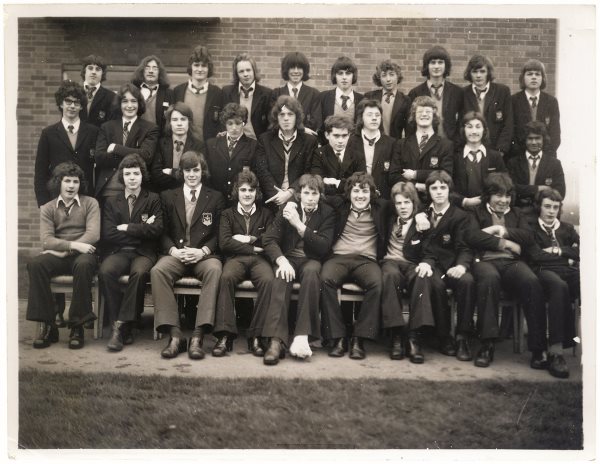 24

Form 5C, 1974

Back row: Chris O'Sullivan, Richard Fisher, Steve Shaunessy, ?? Farrell, ??, Brendan Roper, Martin Osbourne, ??, Gordon Scofield, Steve Baker.
Middle row: Michael Curry, Michael Murray, John Barlow, Brendan Gallagher, Mick Ronayne, Tim Kerly, Steve Loughran, David Bond, Ken Robinson, ??
Front row: Steve Labiak, ?? Feeney, Jim Norton, Raymond Borg, Robert Woolford, Gerald Kloska, Robert Lindsay, Nick Sharps, Mark Helmore, George corner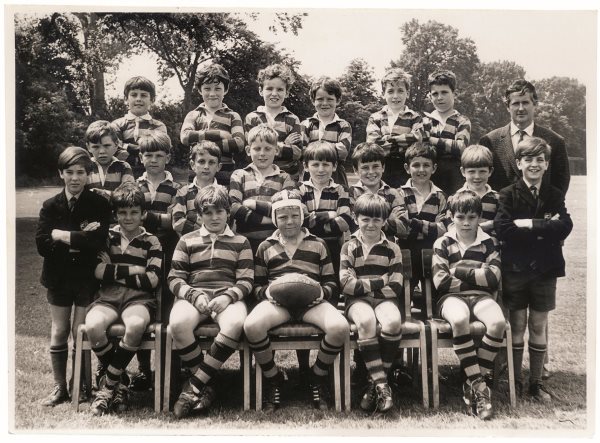 25

Top row: Phil Harding, ??, Pete O'Dea, ??, ??, Corrigan, Mr Pullin
Middle row: Nick Craig (jacket), Dave Skuse, Nick Mould, Phil Schools, Nick Foster, ??, Nick Harding, Edwin Schools, Steve Broderick, ??
Front row: Pat Murphy, Pete Staferi, Nick Durston, Dunleavey, Martin Mohan, ??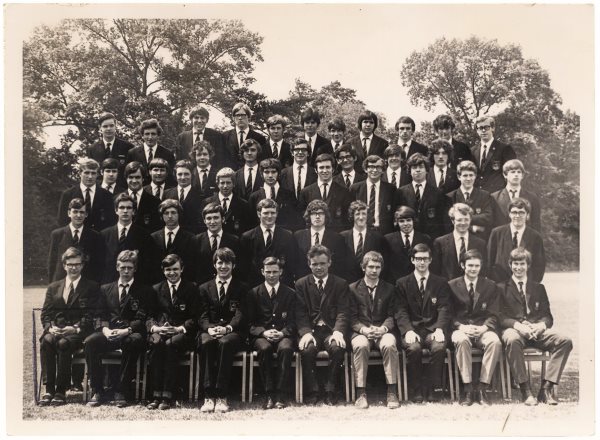 26

(1970)
Back row: ?, ?, ?, John Turner, ?, ?, ?, ?, ?, ?, ?, Noel Walsh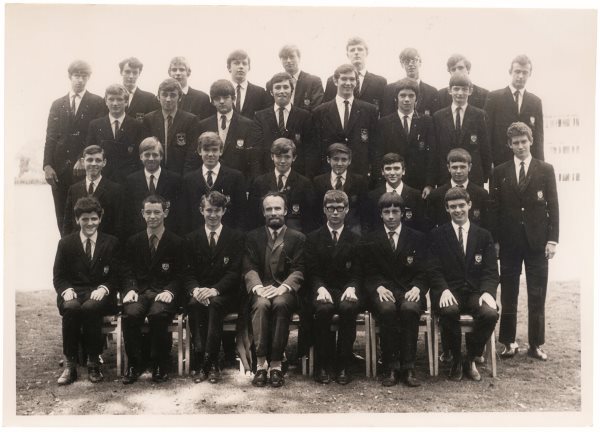 27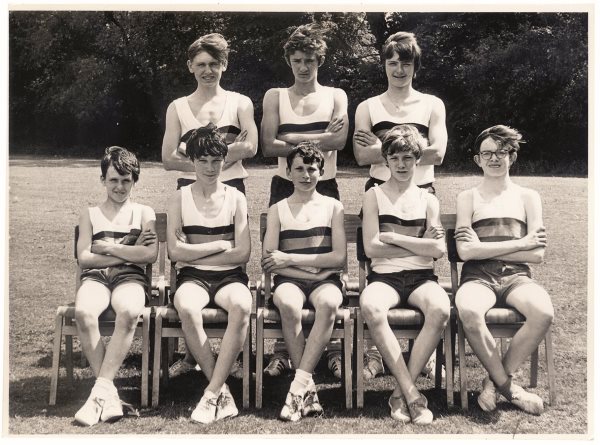 28

Dave Powell - middle back row

29

U15 Rugby Mr Bill "Jimmy" Burton
Back row: Robin Brownsell, Ben Gillow, Jon Duda, Tony Emery, Jim Porter, Brendan Redko
Middle row: Tony Roche, ?, Kevin Rafter, Steve Donovan, ?, Mike Slade
Front row: ? McKenna, Bernard Kloska, Ray Gunning, John Hickey, Jan Wyglendutz?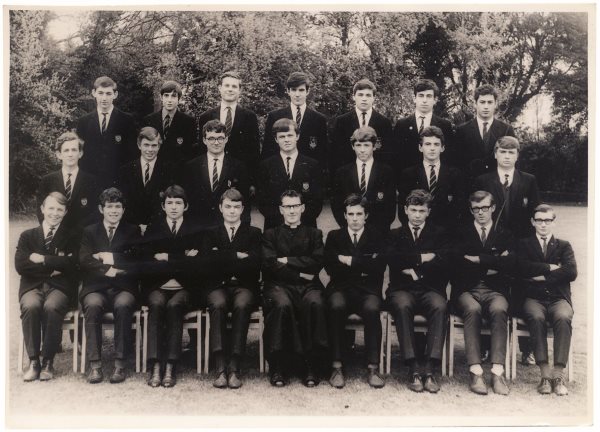 30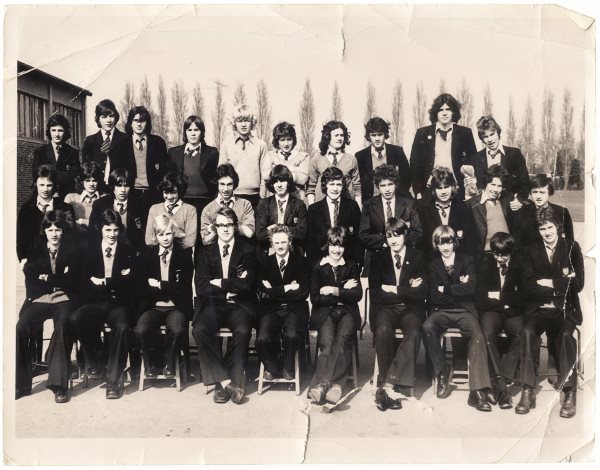 31

Top row: ??, Pete Todd, ??, Martin Mohan, Long, ??, ??, Phil Harding, Martin Munday, Mark McGuinness
Middle row: ??, Mark Harding, ??, ??, Steve Davies, ??, ??, Bill, ??, Bernie Cashin (thumbs up), Steve Fallon
Front row: ??, ??, Rob Groves, Mike Lane, Vince Dale, ??, ??, ??, ??, Chris Donovan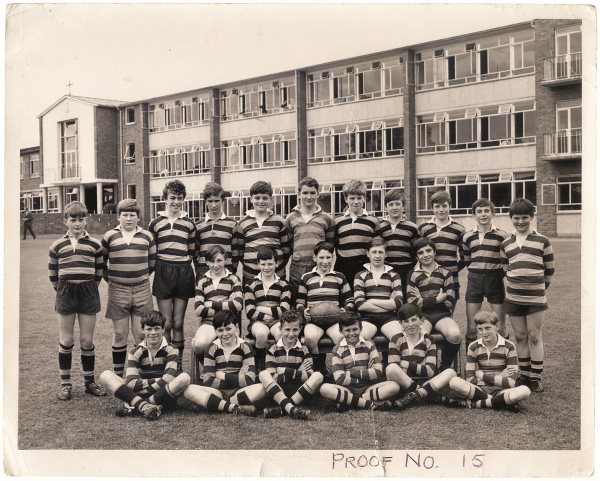 32

Peter Polledri (Bristol Rugby) - middle, far right
Bogdan Prytovski (next to Pete Polledri)
Dave Powell, back row standing - fourth in from left
Fitzpatrick - right of Dave Powell
Philip Turner - next to Fitzpatrick
Kieran McMahon - holding the ball
Barry O'Donoghue - back row far right
Rich Davis - five in from right back row
Chris Bird - third in from right back row from
Dave Pyles - sitting, second in from left
John Desmond?? - sitting, far right
Coggins?? - sitting, far left
O'Leary (next to Coggins)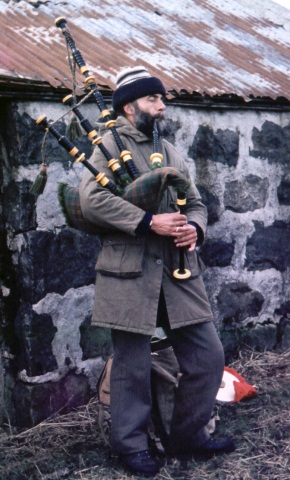 33 (1978)

Maurice Kerby Barra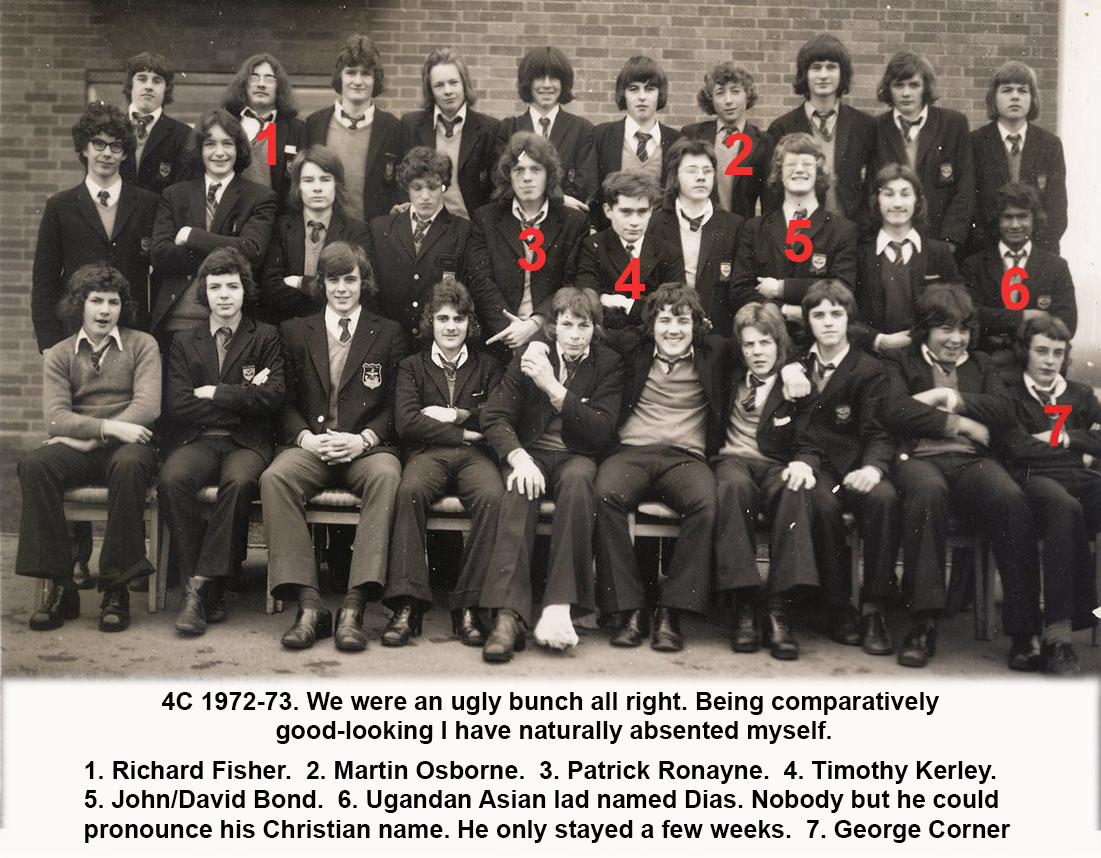 34 (1972/73)

Although not present when the photo was taken I can fairly accurately place the date.

It's at the start of the 1972-73 year. I remember young Dias (or Diaz) being present in the form room when I arrived on a Monday morning. Being an LDB I was informally exempt from assembly and used to make my way straight to the form classroom. When the rest of the brigade arrived we were introduced to our new classmate, most of us had heard of the situation in Uganda on the news and we had a fair degree of sympathy with the new recruit.

I also remember him being asked to write his Christian name on the blackboard, it consisted of about thirty letters and was - for us - totally unpronounceable.

He ended up nicknamed "Idi", which I must say he took in good grace!

A few weeks later he simply disappeared.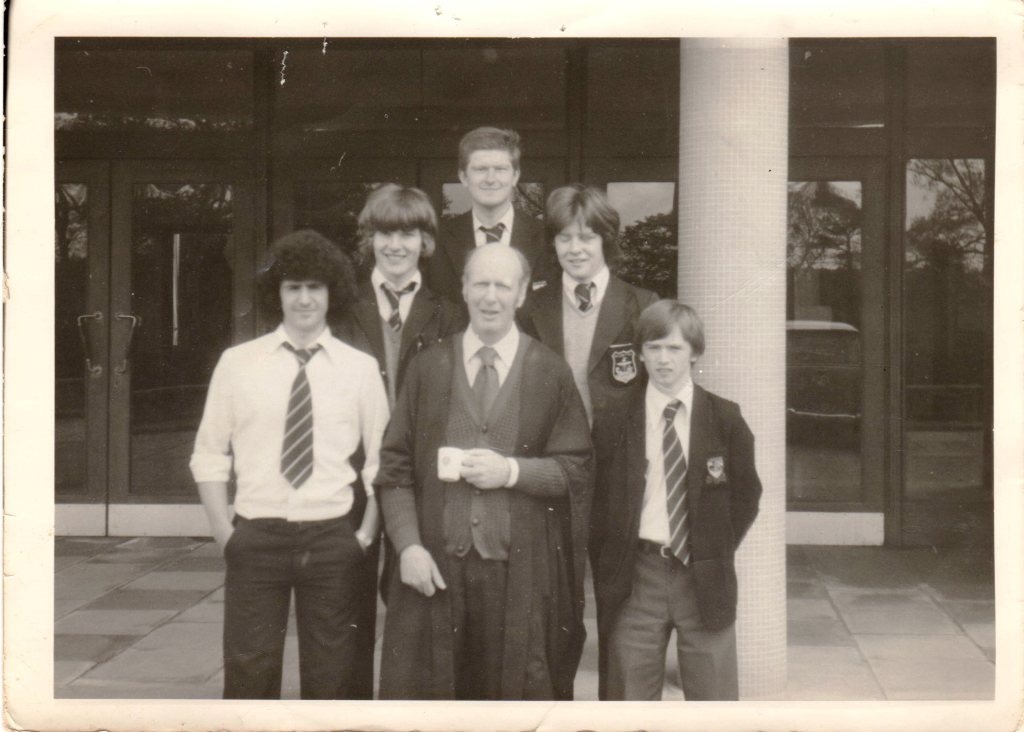 35

Upper Sixth French Group 1979
Top: Alex Zdrojkowski
Middle: Phil Macken (RIP), Dave Millener
Bottom: Casimiro Amato, 'Shiner' Nicholson, Jerome Farrell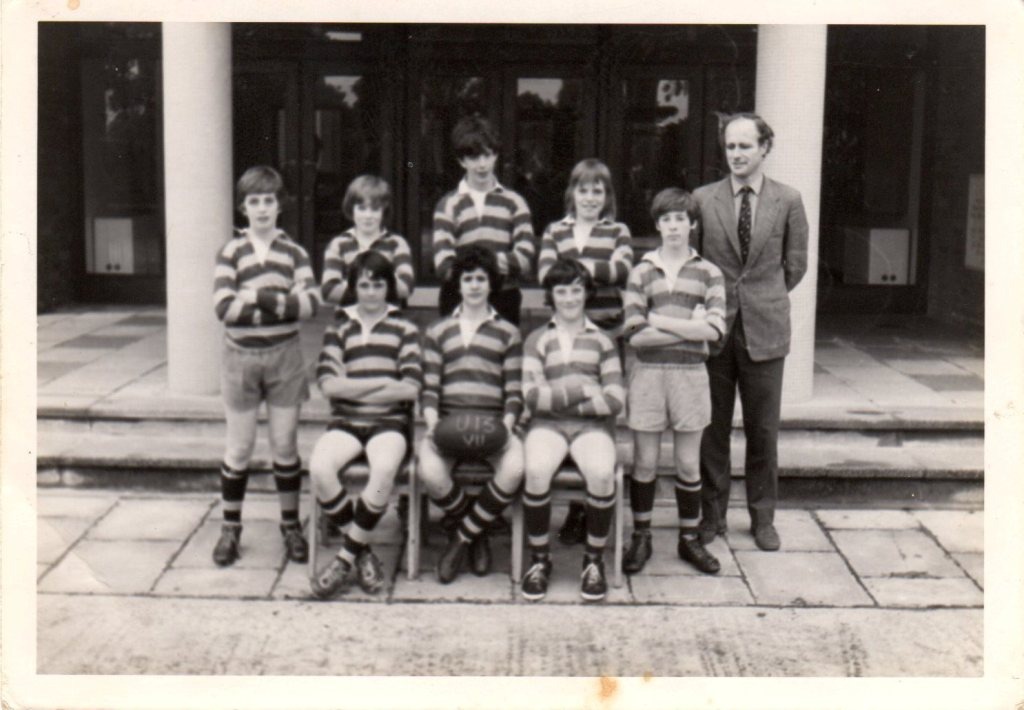 36

Under 13s Sevens
Top: Mark Cross, ??, Steve Coggins, ??, Nick Craig
Bottom: Lee Rees-Oliviere, Casimiro Amato, Will OMahoney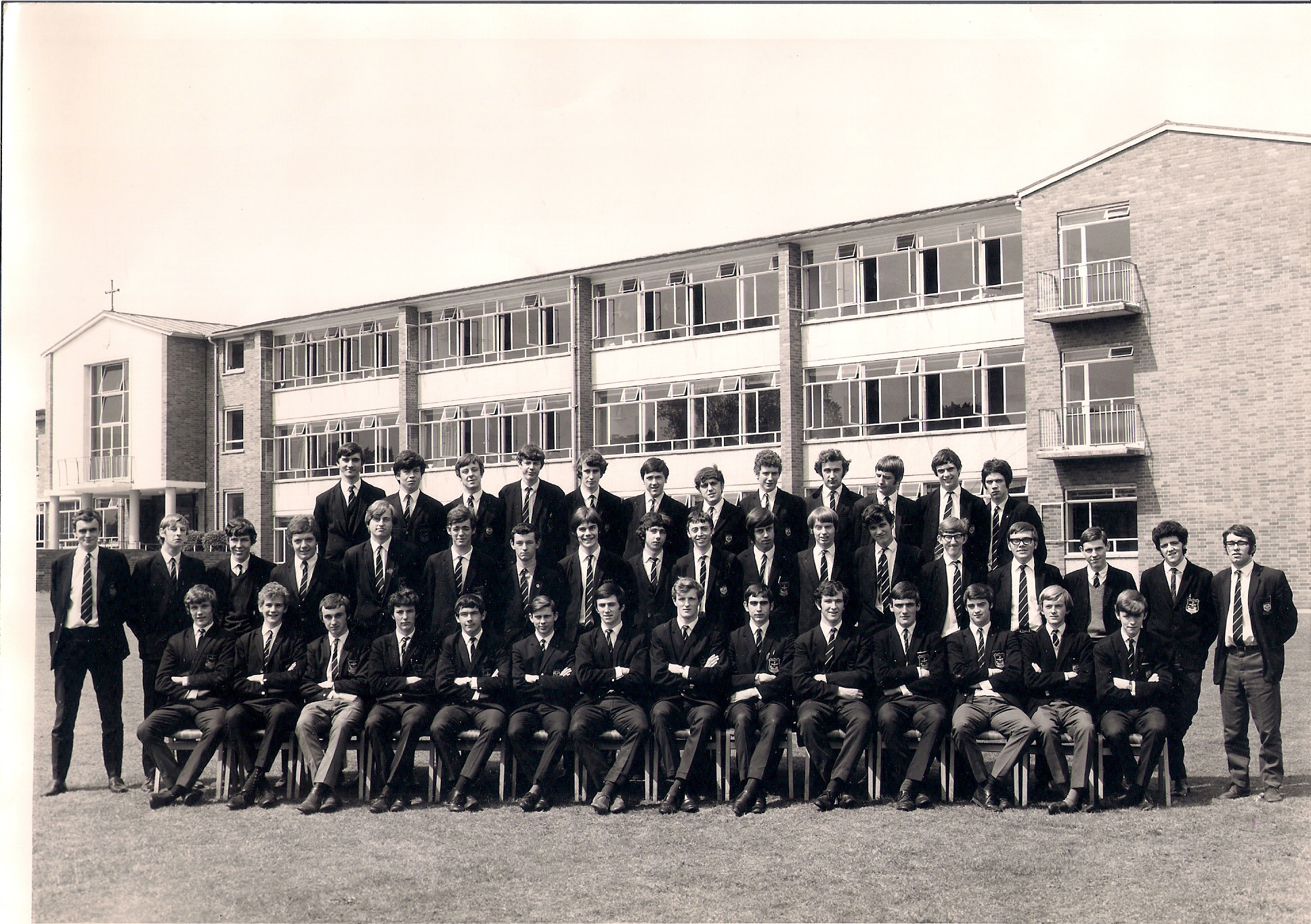 37

6th From, C 1968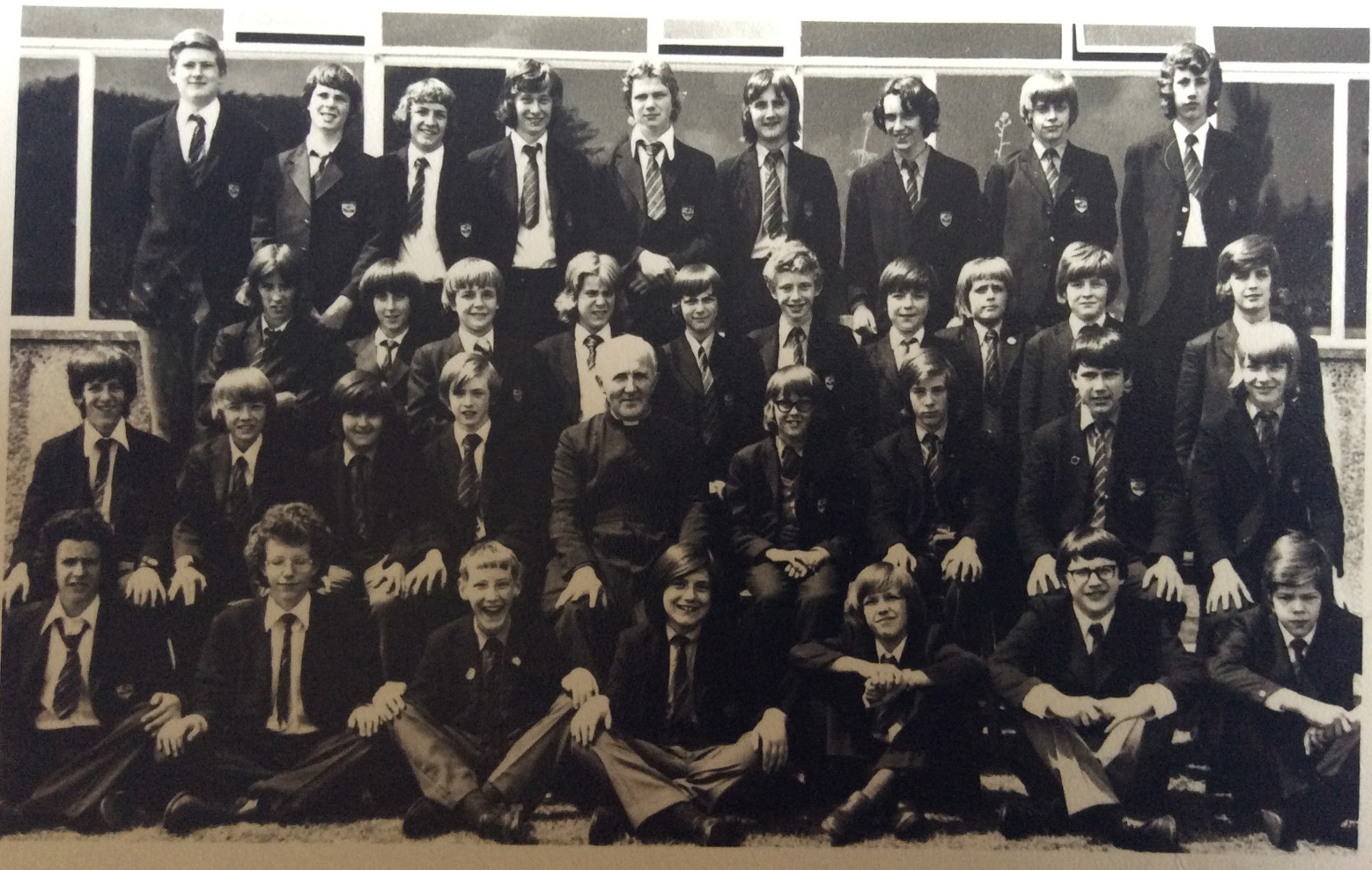 38

Form 3A, 1974/1975

Top row: Zdrojkowski, Byrne, Breeze, Cox, Dunne, O'Hara, Fox, Young, Tovey
2nd row: Murphy, Bevan, Cleary, Rawlings, Wakeman, Lipsett, Twomey, Loxton, Pullin, Cross
3rd row: Millener, Stevens, Bradbrooke, Farrell, Br Kelly, Opie, Craig, Farmery, Macken
Front row: Amato, Gardener, Small, Selway, Angel, Smith, Emsley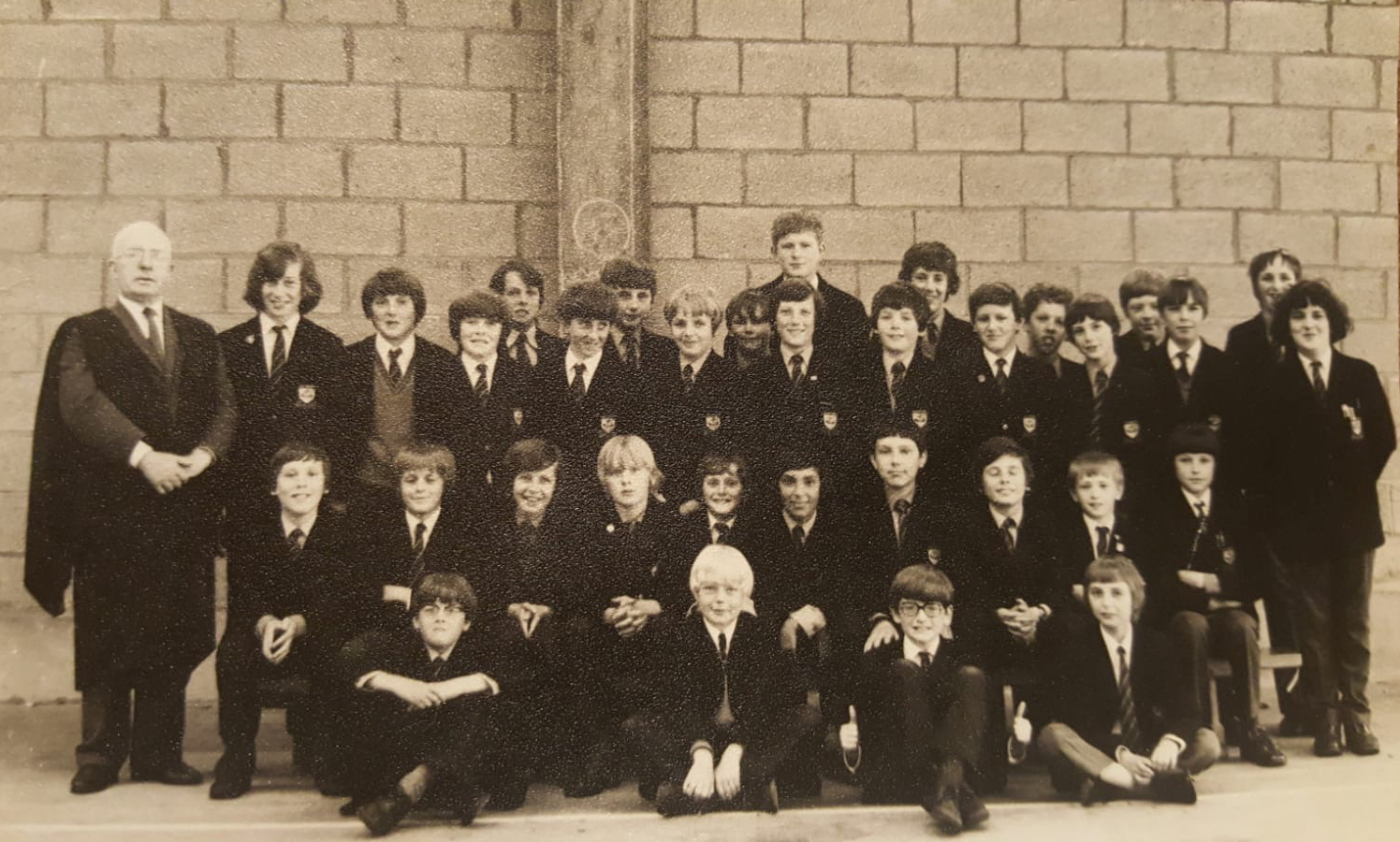 39

Form 1A, 1971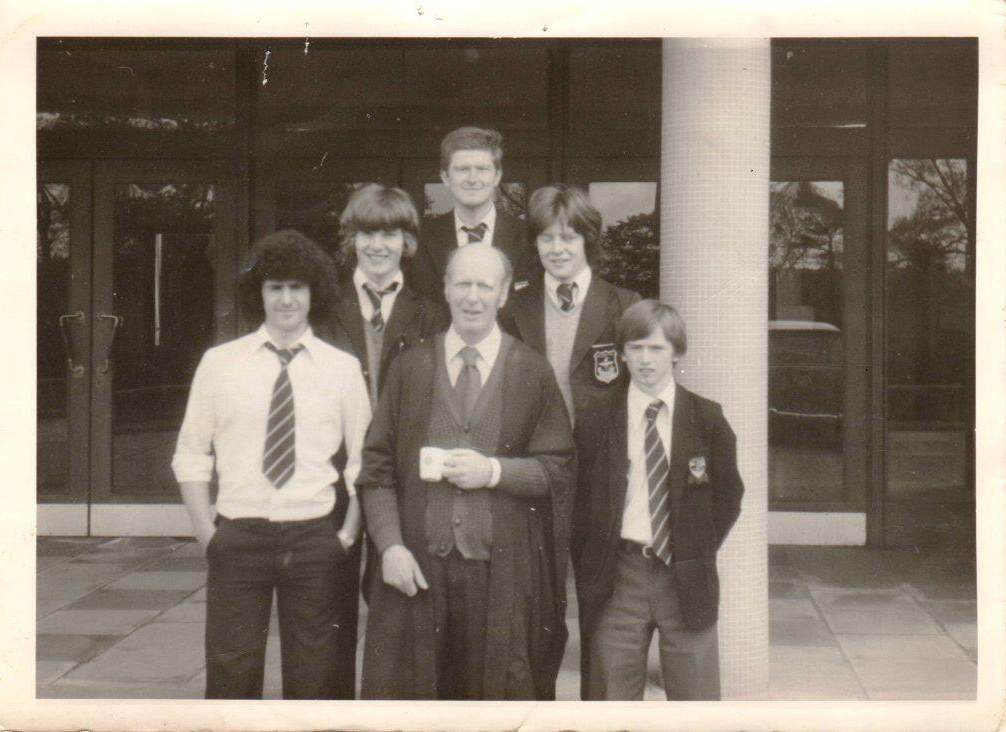 40

Form 1A, 1971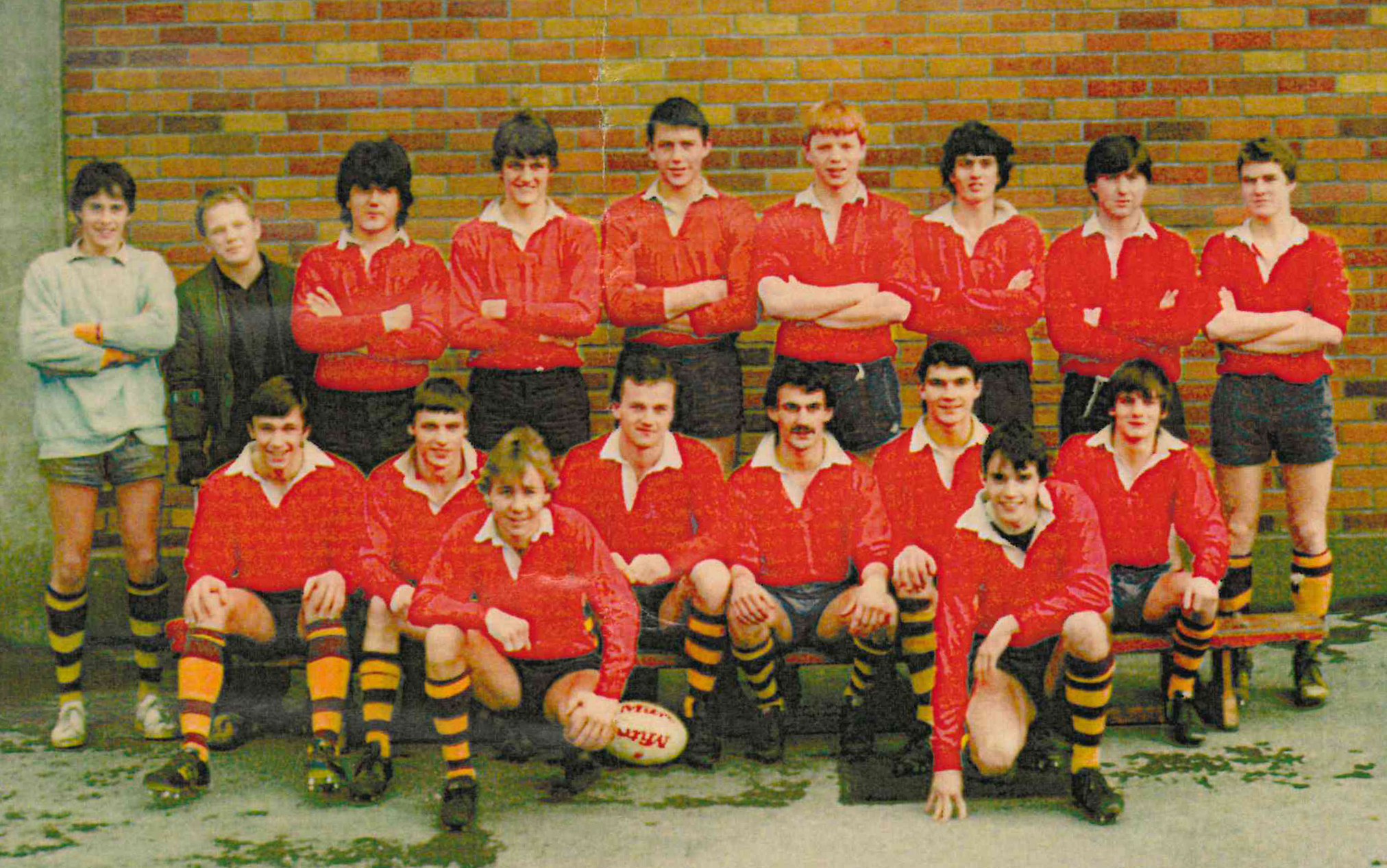 41

1st XV 1982
Back row: C Hanley, M Lambert (injured), P Ricarddi, M Williamson, M Skuse, R Clifford, D McDonals, R Mckeown, M Plumley
Front row: D Hogg, N Garland, I Cox (Capt), R Berry, M Beresford, M Woodman
Kneeling: W Miles, C Mann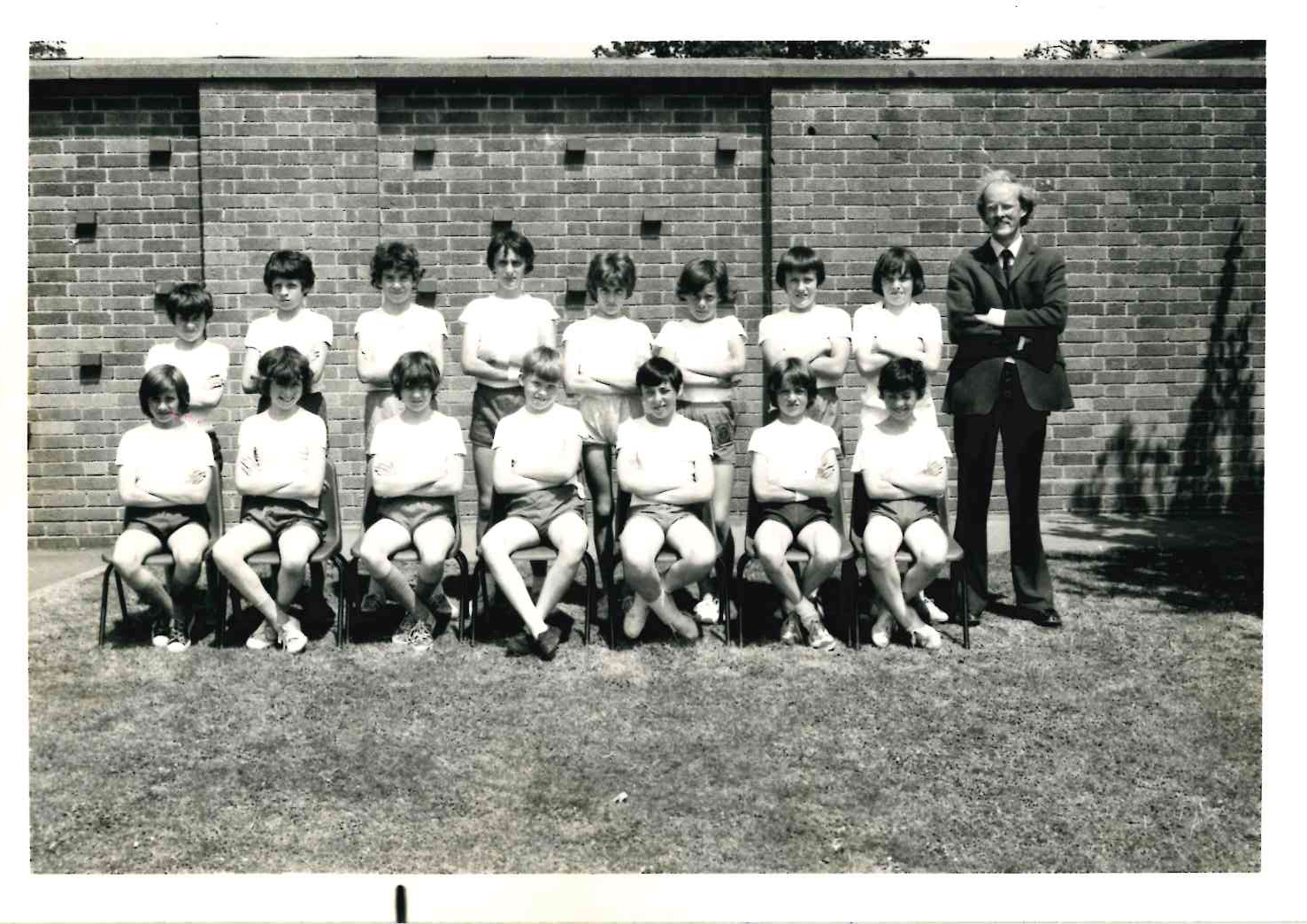 42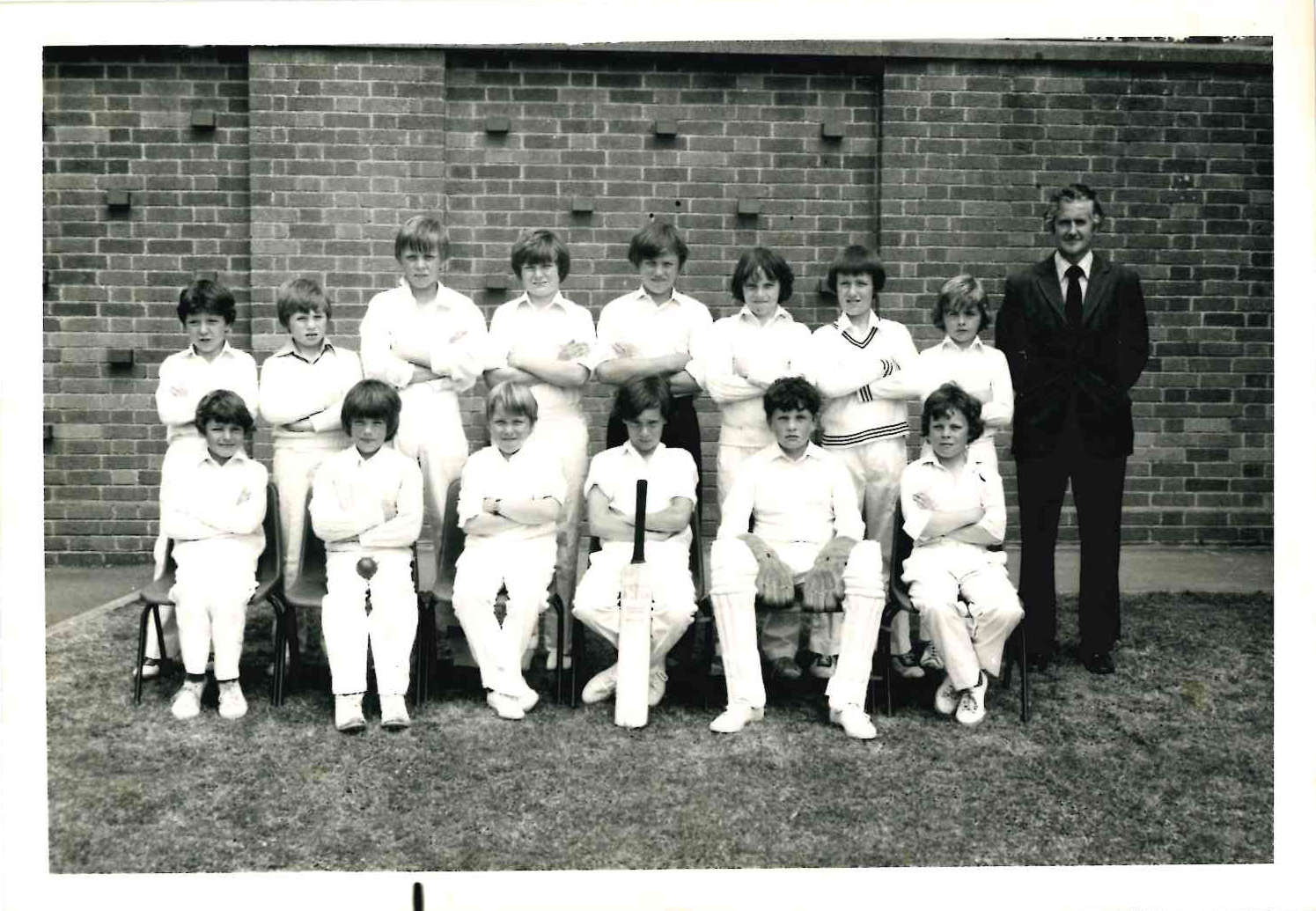 43

Prep School First XI Cricket side of 1975
Back Row (L-R): J. Thorn, M.Collis, J Skuse, T Sander, M Skuse, C Mann, C Flower, C Clancy
Front Row (L-R): C Easton, M Broderick, P Mattock, D. Colston (Capt), P.Tomlinson, J Windows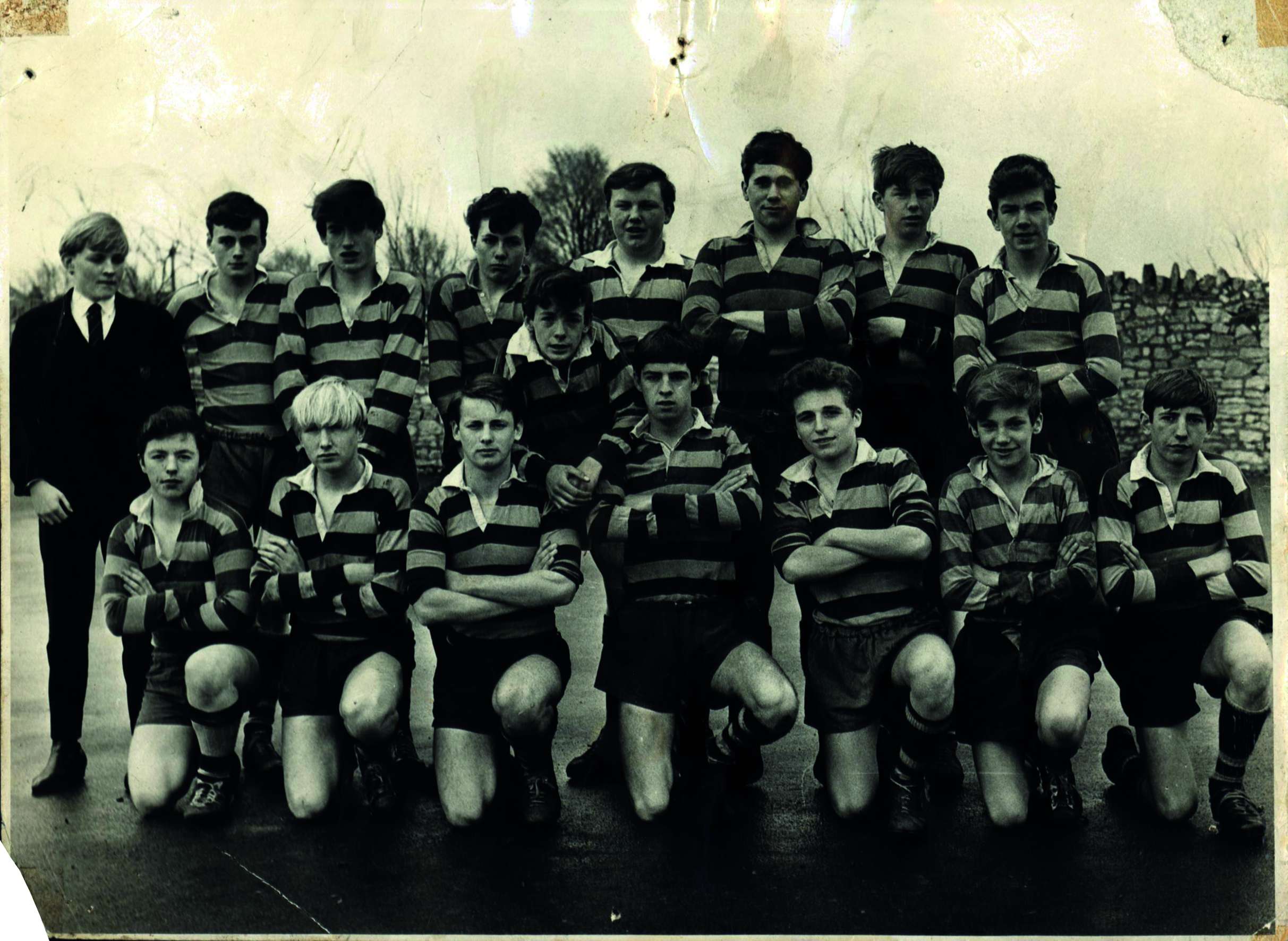 44

U15s - Circa 1965

Back row (L-R): Kelleher, Gunter, Cleary, Meredith, Hewlett, Doolan, Walker, Williams
Middle: Bull (Adrian)
Front row (L-R): Garbutt, Sharpe, Johnson, Binham, Nolan, Bull (Peter), Cary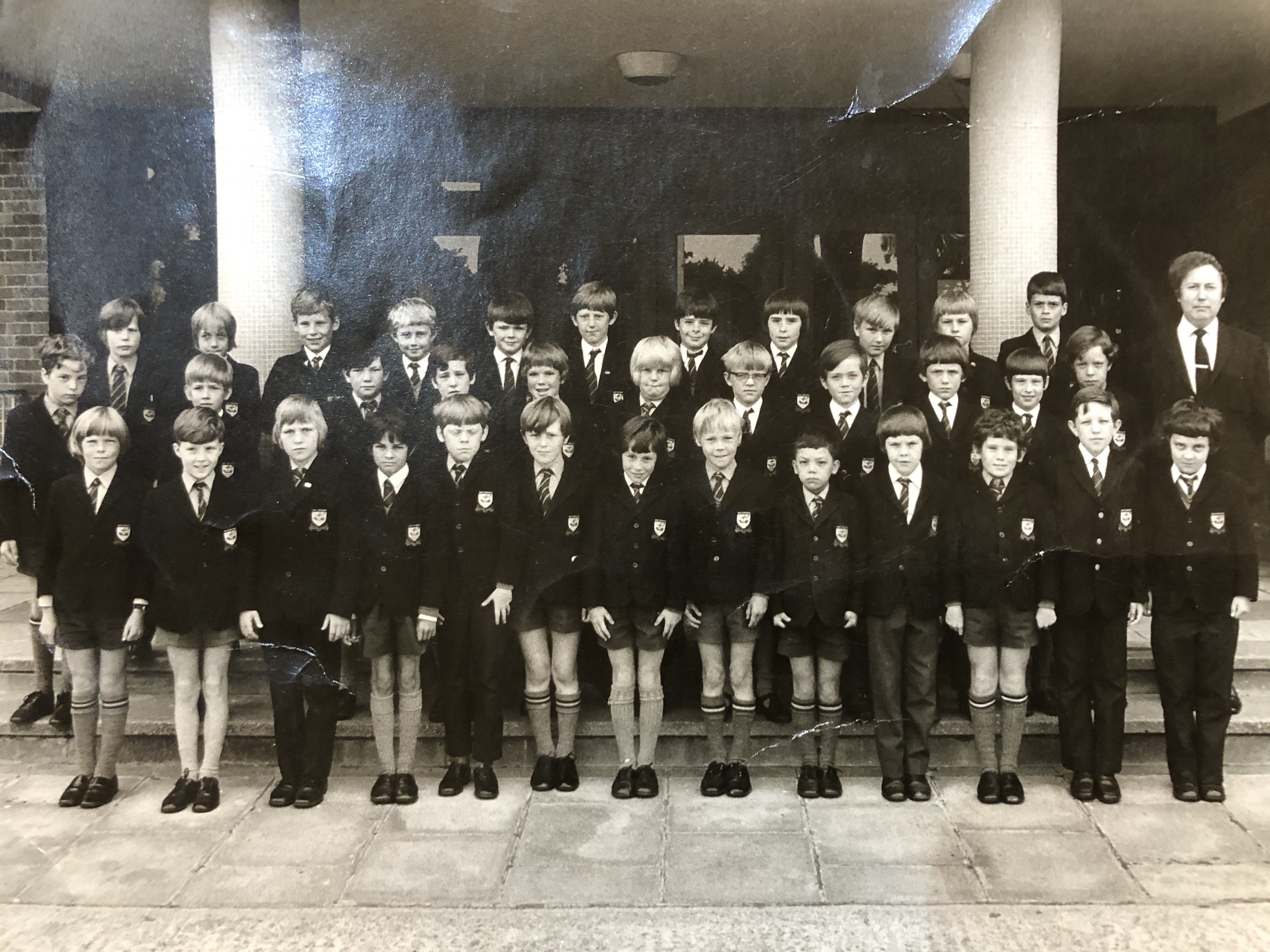 45

Believed to be Form 1b 1972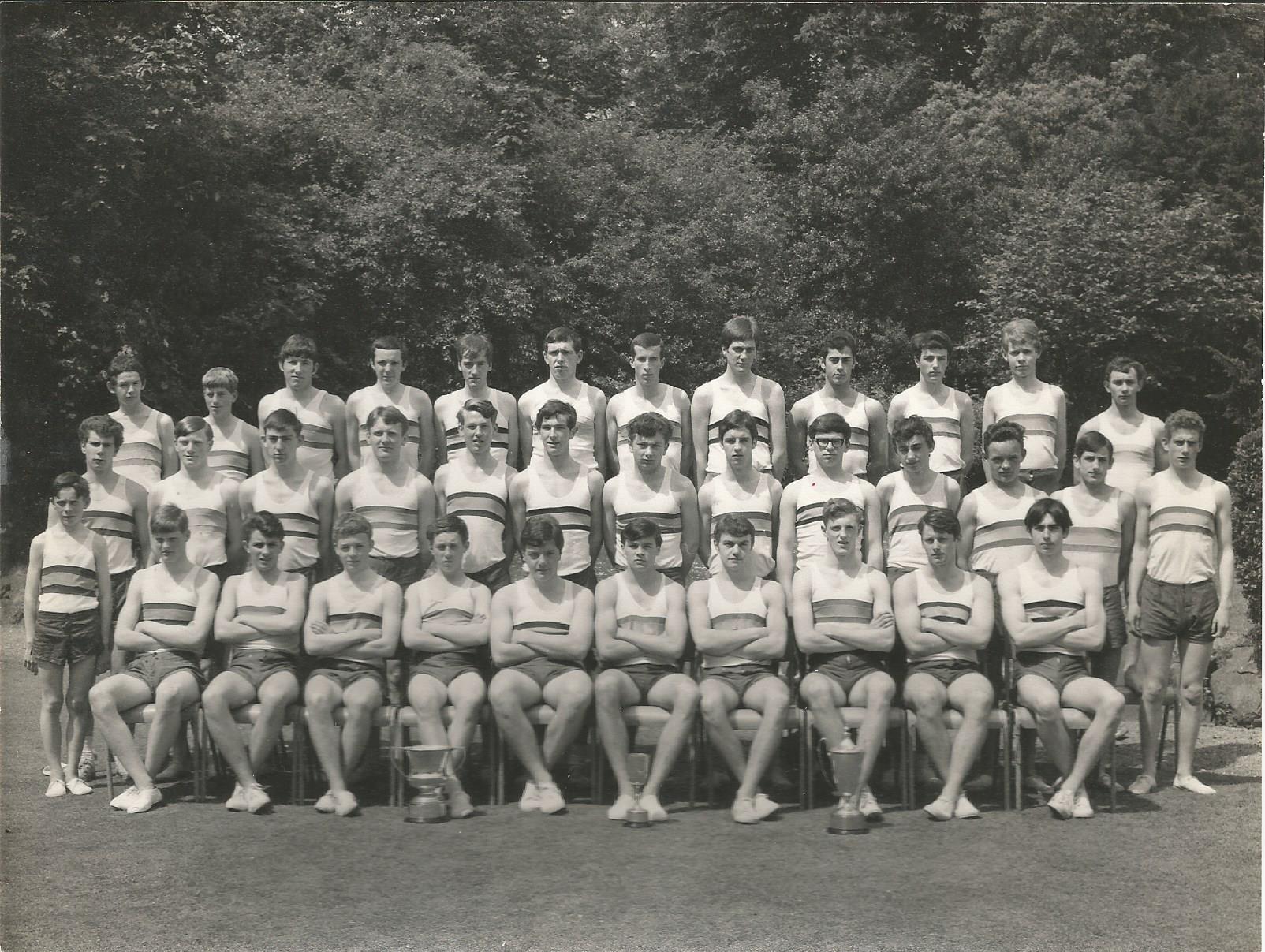 46

Senior athletic team in the summer of 1967
(Photograph courtesy of Andrew Pennington)

Front Row (seated)- 6th from left - Frank Ewens, 9th - Peter Johnson, 10th - Peter Rogers
Middle Row (including the boy standing with the front row) - 5th from left - Andrew Pennington, 6th - John Lee, 9th - Peter Binham
Back Row - 4th from left - Paul Marshall, 6th - Frank Probert, 7th - Paul Foster, 8th - ? Sweeney?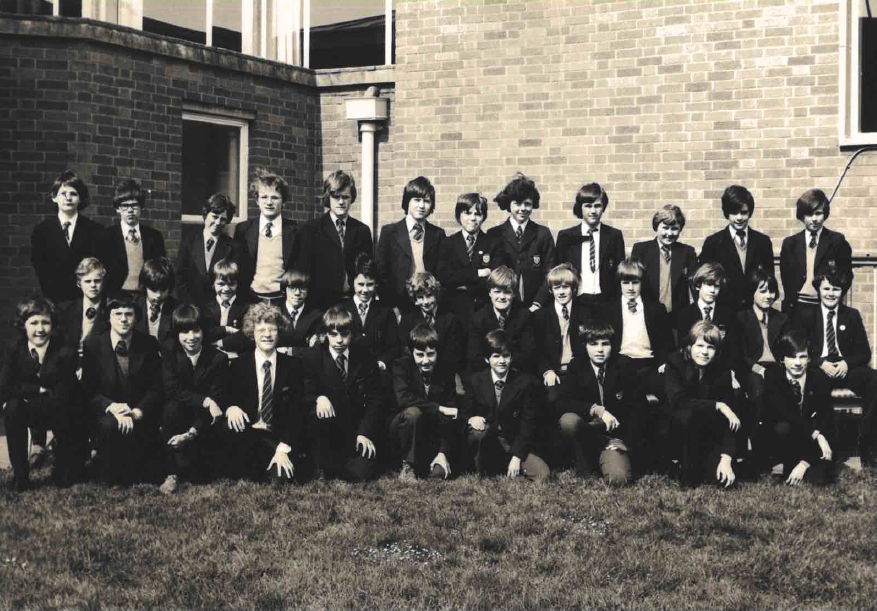 47

2B May 1977

Back row: David Rowsell, Peter Milne, Derry Begley, Adrian Stevens, Michael Williamson, Ronan McKeown, Warren Pash, Shaun O'Reilly, Simon Whitham, Andrew Giles, Peter Maddelena, John Hooper

Middle Row: Nicholas Sheehan, Simon Doliczny, Michael Patten, David Talkowski, Richard Fox, Stewart Easton, Neil Hughes, Gary Kinzett, Neil Jefferies, Marek Lewcun, Jeremy Anglin, Dominic Bath

Front Row: Istvaan Haasz, Adrian Hall, Christopher McMahon, Timothy Harvey, Philip Glanville, Richard Farrell, Christopher Forster, Paul Clancy, Martin Plumley, Roberto Howard


48

Form 2B, summer 1977

Tim Harvey (peering into the frame on the far left, Peter Milne stood next to him

Back row, left to right: Paul Clancy, Adrian Stevens Stewart Easton (not sure whose shoulders he's on), Mike Patton, Phil Glanville, Chris Forster on Richard Fox's shoulders, Warren Pash, Ronan McKeown,, Mike Williamson, Richard Doliczny, Neil Jeffries, Ist Van Haas (head turned towards Neil), ?, David Rowsell, Derry Begley, John Hooper (hand in pocket)

Behind back row on the right hand side, left to right: Ronan McKeown, Mike Williamson, Marek Lewcun (me, circled), Chris McMahon

Front row, left to right: Simon Witham, Richard Farrell, Andrew Giles, Adrian Hall (strangling himself), Richard Fox, David Talkowski, Neil Hughes, ,? (leaning forwards)

Lying on the ground, left hand side: Gary Kinzet